Italy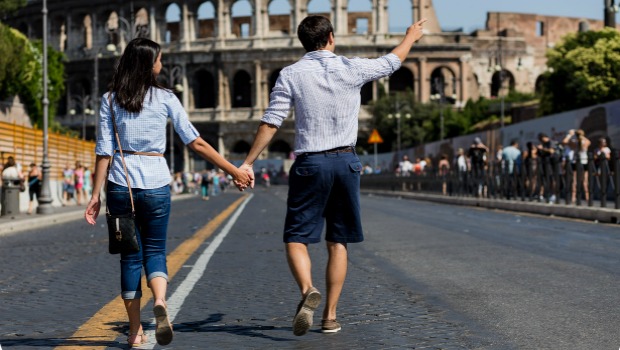 Published on July 15, 2014 | by Francy
0
Rome: the ideal city for a tourist on foot
Rome, arguably one of the world's most famous cities, is something that everyone should see at least once. The swarming throngs of tourists along the cobbled streets of the Eternal City attest to the fact that my opinion is not one I share in isolation.
The city hosts millions of tourists every year, each of whom comes for a variety of different reasons, hoping to discover and be part of the many unique experiences which make the city what it is. My first visit to Rome came at the end of my first ever trip to Italy, which I had undertaken some years ago with a random assortment of family members in order to attend the wedding of my sister and her Italian fiancé.
After a month of exploring the northern cities of Milan, Venice, Verona, Genoa and Como (not to mention a wedding at some point in amongst all of that) I finally was able to make my way south towards the city of Rome. Taking the overnight sleeper train from Milan, I shared the journey with an elderly Sicilian couple who spoke no English yet who were more than enthusiastic in sharing their own knowledge and tips for Rome. Arriving at Stazione Termini at seven in the morning, having gained nothing from the 7-hour conversation with my Sicilian carriage companions, I set off from the central train station on foot, towards the city.
How was I going to explore this great big city? I normally hate taking a guided tour option, walking around in a group of people behind someone with a clipboard is not how I like to experience a new city. Instead, I prefer to walk and fortunately, Rome, like other Italian cities is perfect for walking. Highly condensed with the city developing outwards from its historic center, walking gives you the opportunity to experience the city in even greater detail. At almost 3,000 years old however, Rome is very large, and if you're planning to tour Rome on foot, you'll need to plan ahead. Here are some tips on how to best achieve that.
1. Get a map
Roman streets can be confusing and becoming lost in Rome's famous streets can happen all too easily. Getting a map of the streets of Rome will help prevent this, and even allow you to plan your day better. Walking from the Roman Forum to the Vatican City? Why not swing by the Pantheon. Located around half way between the Vatican and the forum, it's one of Rome's most famous monuments but as it's nestled a little out of the way in one of the cities smaller streets it can easily be overlooked by an unaware traveler.
2. Plan Your Journey
If you have an idea of what you want to see and how far you can walk, why not plan your day ahead of time? Visit the Colosseum at ten, lunch by the Spanish Steps at two, Villa Borghese by four. By taking the time out to schedule ahead for what you want to see and do, you'll make sure not to miss out. In addition, if you're ever running behind schedule you can always jump on a tram, bus or Rome's underground metro system.
3. Use public transport
Rome's public transport system might not be the best, but that doesn't mean you can't use it to catch up if you fall behind schedule or for when your legs get too tired to continue walking. The Rome Metro runs right through the center, with two lines intersecting the city at the main station, Stazione Termini. Alternatively catch a tram or bus at a minimal cost, with travel cards starting at €6 daily, €16.50 for 3 days and €24 weekly.
4. Take your time
Rome is a huge city. You could easily spend months exploring the city and not see everything there is to see, but you don't want to spend your time rushing everywhere without properly taking it all in. Take the time to admire and appreciate the city for what it is, and the city will make your visit all the more worthwhile.
For my visit, I spent the best of three days traversing the city, attempting to take in as much as I possibly could, only to be utterly worn out by the end. Yet by going on foot, I felt I had truly gained a deep and meaningful appreciation for the city, and the all the magnificent experiences it had to offer.
Photo by Luca