Europe
Published on July 13, 2015 | by Thomas Ujj
2
Budapest Sziget Festival (on a Budget)
As an American expat currently living in Budapest, I can comfortably say that Budapest's nickname as the "Pearl of the Danube" is entirely accurate. A beautiful city separated by the Danube and encircled by mountains, Budapest has the distinct advantage of being able to mix its rich history and culture with the bright and colorful ideas of Western civilization. With a colorful history, Hungarians take pride in the obstacles they have overcome: Turkish rule, Habsburg rule, World Wars 1 and 2 and more recently, Soviet occupation for close to 50 years. These unfortunate experiences have led to Hungarians not only learning from their past but also instilling a sense of self-pride to have survived so much.
While my time here has been full of interesting experiences, they do not come close to the general feeling of comfort and warmth that one feels when in Hungary. As opposed to where I've lived previously (New Jersey), people in Budapest and the rest of Hungary are relaxing and very welcoming to foreigners. Some people may say otherwise, but I can personally say that the majority of people here are very friendly, as with anywhere else. What is true for everywhere in the world is also true here in Hungary: Treat others the way you want to be treated. Living here for a year has also taught me one other thing: festivals here in Hungary are no joke. I've been to numerous festivals during my time here: Local wine festival in the Buda Castle, a Czech beer festival in City Park, another music festival in a different city. Through my experiences, I can tell you that Hungarians don't like to mess around when it comes to festivals.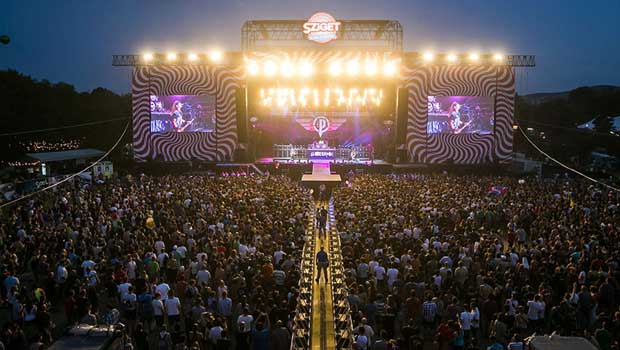 The most famous of these festivals is Budapest's annual Sziget Festival, running for a week every August continuously since 1993. As one of the largest music festivals in the world, this week-long party has grown enough to earn the nickname "The Burning Man of Europe". The event takes place on an island on the Danube between Buda and Pest, an old shipbuilding harbor island that gets converted into numerous campgrounds and giant stages for an entire week. Sziget maintains its festival atmosphere by having numerous camping areas on the island, each filled with travelers from all over the globe. Guests staying at these camps can either bring their personal tent or rent one, giving attendees a real outdoor festival feeling. Don't like the outdoors? Don't worry, the convenience of the city is not too far away. Various food and beverage vendors of all sorts also populate the island's area, providing quick and easy access for hungry festival-goers. This year, the festival is showcasing multiple world-famous artists and bands, including Florence and The Machine, Avicii, and Kings of Leon to name a few. Favorite artists nowadays seemingly are forced to make it a point to attend Sziget due to its increasing success.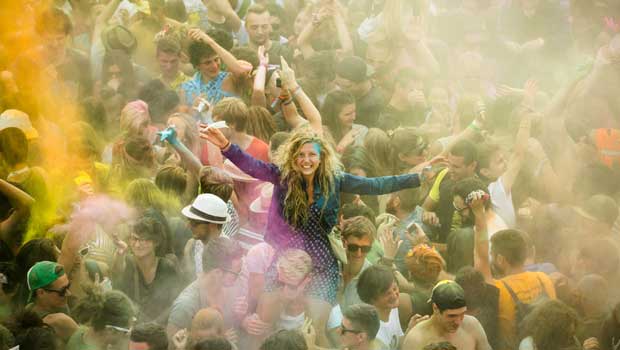 Things to do in Budapest on a budget
The beauty of Budapest also contributes significantly to the success of Sziget. Visitors will likely spend the week staying at the campground and enjoying the concerts on the island, but the rest of the city also has plenty to offer should you wander. Beautiful architecture and landmarks dot the hilly landscape of the older part of the city, Buda, creating a quaint and charming, historical feel. As for the Pest side of the Danube, a sprawling metropolitan awaits, albeit without the modern skyscrapers that one comes to expect in principal cities.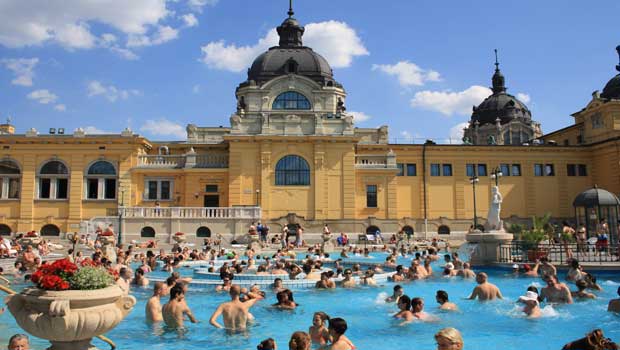 Budapest is also quite famous for it's multiple Roman and Turkish thermal baths and the proven health benefits that they give. Outdoor or indoor style baths await you for a truly unique experience that I can't even begin to explain. You can (must!) visit any one of these baths with a day ticket that will cost you ~10 euros.
Another great thing about Budapest is its cost-effectivity for a budget traveler. While Sziget tickets have risen in price over the last couple years( due to increasing popularity), 200+ euros for a week ticket or 50+ for a single day ticket, it is still possible to spend your time in Budapest very cheaply. Beer and wine are good and inexpensive, as well as various culinary tastes at any restaurant. Traditional Hungarian dishes such as Langos (fried bread usually topped with garlic and cheese) or Goulash (beef stew with paprika) are readily available and affordable. International foods such as pizza, hamburgers and gyros are also seemingly on every street corner.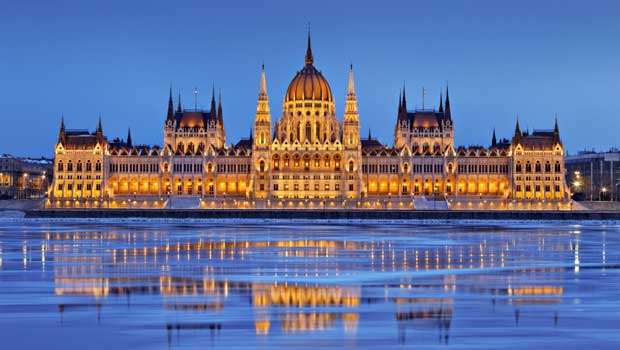 Accommodations can also be quite affordable, as airBNBs and hostels/hotels are numerous throughout the city, and quite affordable compared to major European cities. As mentioned previously, if you are looking for something a little more quiet, try looking for accommodations on the Buda side (I would recommend searching for apartments near "Gellert-hegy", the hill the city castle is on). The opposite is true for the younger, "party" area in downtown Pest (search for anything in the 6th district, near Kiraly or Nagymezo street).
Weather in Hungary is pretty typical, with summers being hot and dry and winter being cold and dark. This summer so far has been pretty mild, with temperatures hovering around ~30 C°. Due to the relative dryness of summer, the dates of Sziget Festival are typically pretty free of rain, although a summer shower or two can happen.
Does anything else need to be said? Check out Sziget Festival now for tickets and other information. Plan your August trip to Budapest and I guarantee you will not be disappointed!