Wellness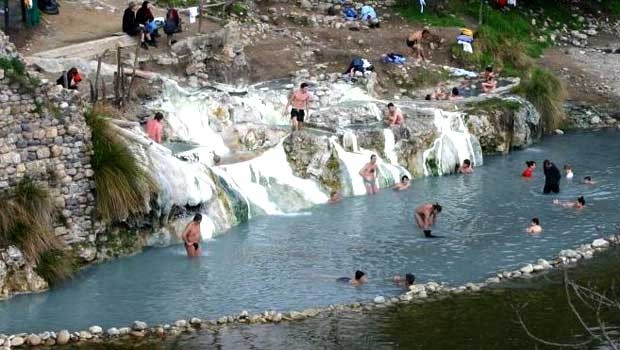 Published on June 8, 2011 | by Andrea Guerriero
0
Undisclosed Sites of Tuscany: the Hot Springs of Petriolo
In one of the most pristine and secluded corners of Tuscany, in a hilly land along the river Farma covered by woods, on the extreme border of the Natural Reserve of the Lower Merse, gush out the hot springs of Petriolo – in the town of Monticiano; the Mediterranean scrub surrounds this well preserved, exceptional countryside.

The hot springs of Petriolo are known since Roman times and many famous people, including dukes, cardinals and members of the Medici and Gonzaga families, have benefited from the healing properties of these sulphurous waters in the past centuries.
The thermal waters of Petriolo spring at a temperature of +43 °C from a source located on the river Farma with an average capacity of 40 liters per second. Its strong smell of sulfur is due to the presence of hydrogen sulfide in significant quantities.
The thermal springs are accessible both freely and by the fully equipped spas with adjoining hotels in the area.
For those who enjoy holidays on the road, the free access to the baths is undoubtedly the most exciting. On the way to Grosseto (A1 motorway Firenze-Certosa, exit Grosseto, coming from the north, and Siena-Grosseto motorway coming from the South) you will find the junction to reach the springs. The sulphurous water gushes from the springs and falls in the river Farma with a series of small waterfalls which incessantly flow in some natural rock pools.
This place is always full of people bathing and relaxing in strict contact with nature; the peculiarity is that you get two completely different situations in the same place: the hot spa water on the left and the cold waters of river Farma on the right. This is a special setting for those who suffer from circulatory disorders. In fact, walking on the pebbles of the river, passing from the hot zone to the cold one, you can enjoy the benefits of a completely natural Kneipp path!
However, those who want to take advantage of the services and treatments offered by doctors and professionals within a spa in all respects, can opt for one of the many spa complexes in the area. In addition to the thermal baths, they also offer physical therapy and rehabilitation. Among the spa treatments available: mud therapy, inhalation therapy, massage therapy, breathing exercises, manual lymphatic drainage.
The surrounding area also offers other opportunities for fun such as horseback riding and hiking, in addition to the wine and taste trails, a must for anyone visiting the Tuscan Maremma. Do not miss a visit to the areas of Monticiano, Chiusdino, Murlo and Roccastrada – a balcony on the countryside of Grosseto, with the Uccellina mountains in the background and all the beauty of the Maremma. Need any further hints to make you wish a stop here?
Photo by francesco sgroi