Wellness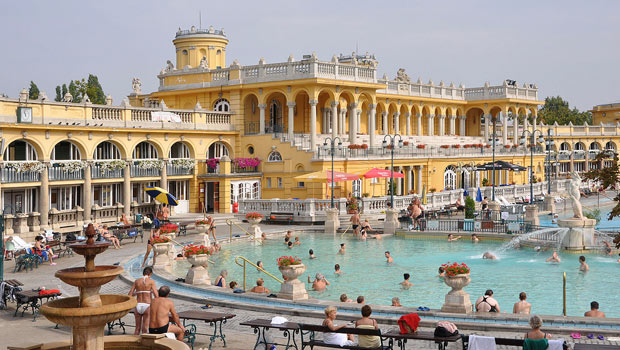 Published on November 14, 2013 | by Francy
0
Thermal baths in Budapest, a healing dive in history
When planning a vacation, Budapest the city of Sloth is not exactly one of the first Eurospean cities in our wish list. Yet the capital of Hungary is one of those cities of which you cannot but fall in love with as soon as you get there.
Flights to Budapest depart daily from major international airports. This is the first step towards an unforgettable holiday, made ​​up of rewarding sensations, great images and moments of deep insight. Despite being a city rich in history, art and culture, many choose to treat themselves to a holiday in Budapest especially for its "feels-good places" among which certainly stand out Margaret Island, a green lung located in the middle of the Danube, or Váci Utca, the most famous and bustling street of the historical centre, full of shops and restaurants and perfect for shopping, but also for those who enjoy relaxing walks.
And, speaking of relaxation, we come to the subject you are expecting if you've come across this post today. During a stay in Budapest, it would be a shame not to spend at least one lazy day at the spas.
Budapest, in fact, is also considered the city with more hot springs in the world. These baths were built mainly by the Turks, have more than 2000 years of history and were already a favorite destination with the legionaries of the Roman Empire. Mainly located in the historical centre and accessible at very affordable rates, Budapest Baths are ideal for those who want to treat themselves to unforgettable moments of relaxation and take care of their body and mind.
70 million liters of thermal water gush out from 118 natural hot springs in Budapest every day at a temperature between 21 and 78 degrees Celsius. Among the many spas in the city, we believe that 3 of them stand out for efficiency, charm and architectural beauty, because spending a day at the Thermal Baths of Budapest also means making a journey through the history of architecture, exploring past influences and conquerors who gave fame to these mystical, almost supernatural places. Let's check them out.
Szechenyi Baths
The first spa in Pest, situated in the heart of the public park Városliget, boasts the distinction of being the largest bath in Europe, and encloses the spa culture of ancient Rome, Greece and Northern Europe. The entry fee is relatively cheap – 4,100 Huf ~ 15 Euros – and includes both traditional medical treatments and the use of fitness equipment such as saunas, gym and fitness classes. The water of the Széchenyi Baths, conveyed in 19 swimming pools, comes from an artesian spring dug to a depth of 1,250 meters and has a temperature of 76 °C.
Cemical characteristics of water:< it contains calcium, magnesium, and bicarbonate, sulfur and chloride, with substantial amounts of alkali and fluoride.
Address: Állatkerti krt. 11, Budapest. Open daily from 6am to 10pm.
Gellért Baths
The Gellért baths, founded in the 15th century, are fed by 13 springs with water that flows at temperatures varying between 27 °C and 48 °C. With their Art Nouveau style, they are the most stylish and expensive spa in Budapest. If you are looking for a hotel in Budapest close to Gellert baths, you may be surprised to acknowledge that this establishment is also a luxury hotel. Danubius Hotel Gellért and the Gellért Thermal Bath were built between 1912 and 1918, and are housed within one of the most beautiful Liberty buildings in the city. In 1927, the complex was expanded with a beach with wave generator and in 1934, with a bubble pool. The day ticket costs 4,900 Huf ~ 18 Euros. Since January 1st, 2013 Gellért have become "Unisex" 7 days a week!
Chemical characteristics of water: slightly radioactive water rich in sodium and calcium
Address: Kelenhegyi út 4, Budapest. Open daily from 6am to 10pm
Király Baths
Royal, historical, cheap. The Király baths (from König, surname of the final owners since 1796,) which in English can be translated as "King," they never had and still don't have a direct source of hot water. The Turks conveyed thermal waters within the walls of the castle in order to perform their ritual bath even in case of siege. The Király Bath was begun in 1565 under the reign of the Buda pasha Arszlán, is one of the leading Turkish baths in the city and one of the few remaining examples of Turkish architecture in Hungary. Nowadays, the Király Baths are primarily frequented by a gay clientele, this can only confirm their status as elite spa, dedicated to true connoisseurs. The cost of a day pass is 2,400 Huf ~ 9 Euros.
Chemical characteristics of the water: it contains bicarbonate, calcium and magnesium , chloride, alkaline sulfur, with sodium and a large amount of fluoride ions.
Address: Fo utca 84, Budapest. Open every day from 9:00 to 21:00
Lukács and Rudas Baths
Noteworthy are also the Lukács Bath, in Frankel Leo u. 25-29, open every day from 6am to 9pm, admission fee 11 Euros – which stands out for its mud treatments, but especially the Rudas Bath, in Döbrentei tér 9 – open until 4am on weekends (from 6am to 6pm on every other day;) the day ticket costs 7 Euros, 10 Euros on Saturdays and Sundays, late opening is 12 Euros. Not only wellness and relaxation, indeed. Although often open for women-or men-only on alternate days during the week, the thermal baths of Budapest can also become a chance to make friends and have fun. Initiatives like Cinetrip – actual raves organized at the spa – for example, give people the opportunity to experience an unforgettable "Sparty." Nonetheless, parties are regularly organized with famous DJs and special lighting effects at many spas in Budapest. On these occasions, of course, access is granted to both men and women 🙂
Whether you go to relax, heal or have fun, don't forget your bathrobe and swimwear, because no entrance fee includes this equipment. However, you can rent them or buy them on the spot.
Photo by Marc Ryckaert