Wellness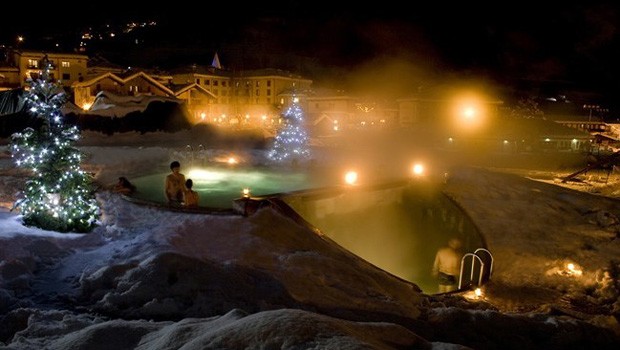 Published on November 26, 2013 | by Daniela
0
New Years' at the spa of Pré Saint Didier
In the quiet of the thermal baths of Pré Saint Didier, at the foot of Mont Blanc, to enjoy an unusual year-end, far from loud crackers. Up there, in the heart of the Alps, where you can soak in the warm water in the open air, between glowing night snow and scented outdoor swimming pools.

One of the best periods for a winter holiday in the Aosta Valley is New Year's: hotels, mountain huts and refuges offer excellent and tasty NYE dinners based on typical dishes of local cuisine and party nights in bars and exclusive clubs!
On the other hand, for those who in addition to sport and fun are also interested in a holiday devoted to well-being or relax after the hard work on the slopes, the thermal baths of Pré Saint Didier, in the Aosta Valley, are an oasis of relaxation and peace on the slopes of Mont Blanc.
Pré-Saint -Didier lies 1001 meters above sea level, at the confluence of the Dora of Verney and the Dora of Coumayeur. The thermal springs of Pré Saint Didier gush out at a temperature of about 37° inside an artificial cave, dug by the waters of the Dora of Verney. The facility hosts three thermal pools in the open air surrounded by snow in winter and green lawns during warm seasons, linked to the indoor wellness center where there are various hydro-massage pools, waterfalls and water jets to reactivate blood circulation.
To escape the stress of everyday life and dive in a bath of relaxation, there is nothing better than experiencing a New Year's Eve in the most beautiful thermal baths in Italy, perhaps taking advantage of one of the many deals available.
Pré Saint Didier is one of the most panoramic towns of the Aosta Valley, especially because it's close to the spectacular Orrido waterfalls in Verney. In high season, prices are not very low, and often, especially those who wait time, may end up staying at facilities not properly welcoming and not very clean and comfortable. In spite of this, by using advanced booking and perhaps checking some reviews prior to booking, a New Years' holiday in Pré Saint Didier can be very pleasant, especially if it's combined with a relaxing spa.
On New Year's Eve, the thermal baths of Pré Saint Didier are preparing a "sensonight," that is, a refined buffet dinner, but …. not too hard to digest, as by 11.30pm the program includes a bath in the three outdoor pools, where in the midst of snow and water vapors the new year will be rang in with charm and treats.
And here you can wait for the new year to come, in peace, quiet and well-being! No disco music or deafening clubs, only good food and relax, between candles, vapors and lots of snow! This is a perfect way to start the year in a healthy, pure and enchanting context of serenity, perhaps as a couple!