City Breaks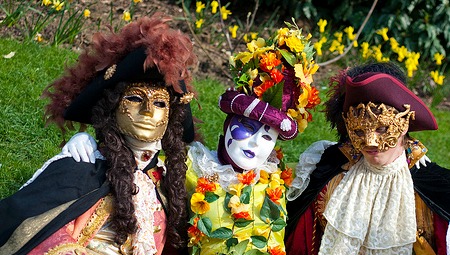 Published on June 27, 2012 | by Daniela
0
Tropical Carnival in Paris, to celebrate cultural diversity
Every year, when the Tropical Carnival invades Paris, the streets of the city are adorned of a thousand colors and a festive atmosphere. This summer, say oui to Paris, the 11th edition of Le Carnaval Tropical de Paris will take place on July 7th, at Place de la Nation and all around Ile de France, the metropolitan area of the city.
Again this year, the first Saturday of July will be warm (probably very hot!) and festive in the streets of Paris! The 11th edition of Tropical Carnival of Paris will take place in the 11th district, one of the most amazing areas of the City of Lights.
The Tropical Carnival of Paris «c'est la France de la joie et de la mémoire». It's a breath of the Tropics in the French capital, where parties and shows are linked together in a display of costumes. A real pleasure for eyes and ears, where 5,000 revelers came from around the world, sing and dance to delight more than 250,000 spectators along the trail, with performances reflecting cultural diversity through Carnival's distinguishing features: celebration and irony.
The parade, under the banner of tolerance and joy, will start from the Place de la Nation, Saturday, July 7 at 2pm. During the Carnival procession, opened by the Reine du Carnaval (the Queen of Carnival) elected on April 28th at the Paris Fair, participants will march through the streets of Paris in the 11th arrondissement: more than four kilometers through Avenue Parmentier and the Rue du Chemin Vert, with a stopover followed by other spectacular events at Place Auguste Metivier. The festival will then move towards Ménilmontant Boulevard and Boulevard Philip Augustus before returning to Place de la Nation by 6pm.
A giant screen will be set up in Rue de la Roquette and a tropical village, at 49 Boulevard de Menilmontant, will entertain visitors with games, leisure and stalls. Moreover, around the town hall of the 11th arrondissement, there will be an exhibition of photographs on the celebration of Carnival in France and in the rest of the world.
Finally, on July 8, head towards the Charletty stadium for the awards ceremony starting at 2 pm.
Colorful costumes and flowing rhythms to spend a joyful and unforgettable afternoon with your friends and family. This event, organized by the General Overseas Delegation of the City of Paris (DGOM) is presently a key event in the capital. And if you happen to choose Paris for a weekend visit, pick up a Paris Pass to make the most of your short stay in the city!
Photo by Willi_G91