France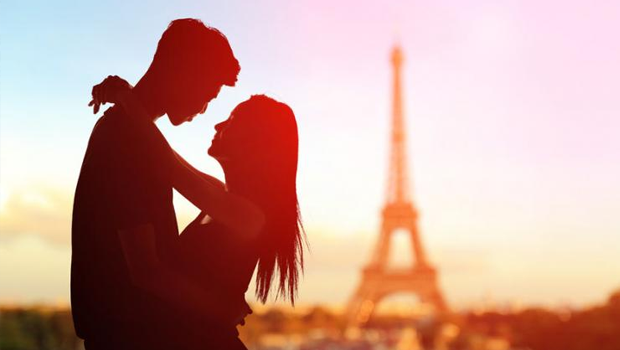 Published on May 19, 2020 | by Andrea Guerriero
0
10 Romantic things to do in Paris
Charming cafes, sultry bars, Gothic cathedrals, Art Nouveau buildings, tree-lined streets, Baroque palaces and discreet secret gardens are just a few of the factors that make French capital the world's Romance capital. Romantic opportunities in Paris are endless but this complete guide will reveal you the top choices of romantic things to do in the Romantic City, Paris.
Savour the view from the Eiffel Tower.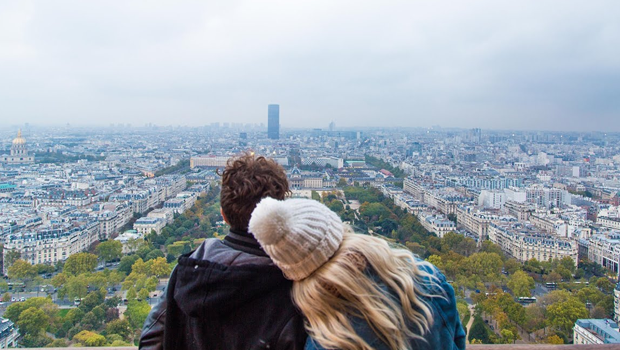 Eiffel Tower is a world famous romantic icon in Paris. No wonder the Eiffel Tower has witnessed so many marriage proposals: the three-storied 324m Parisian iconic deck is absolutely adorable for scaling the city's spectacular views. Better to stand with a glass of pink champagne in hand. I suggest you rise up after the sun goes down to enhance your love by the 20,000 gold lights which enlighten the tower every hour.
Steal a kiss at Pont des Arts.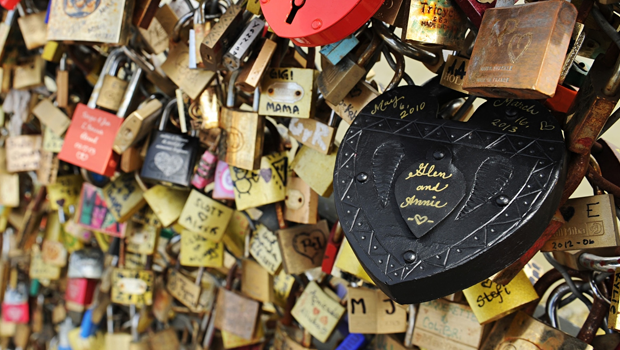 The better known Pont des Arts at Love Lock Bridge, lovely pedestrian bridge, has been a famous site for Parisian rendezvous since 2008. Devoted couples first start putting carved locks on the bridge rails and then drop their keys into the Sine below. This activity is banned by the present but still visitors are encouraged to take photos as they enjoy each other. You will find the views down and up the Sine River best at night.
Visit the "I Love You" wall.
The 416 square-feet I LOVE YOU wall, Jehan-Rictus Square was designed by two artists as a place for lovers and as an everlasting monument to eternal love. The wall, covered by 612 lava tiles, contains the words "I Love You" in 311 different languages, including 192 United Nations languages. The wall is kept open from Monday to Friday since 8am, but closing times depend on the seasons.
Stroll arm-in-arm down Canal St-Martin.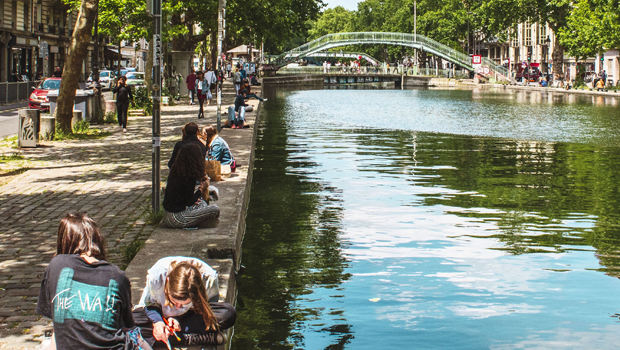 This is a 4.6km long canal in Paris. Walking along the Canal St, Martin is the best opportunity for couples to relax and share their love in downtown Paris. Between nice and tiny shops and bars you can also feel the village heart-beat of Paris. Enjoying a boat cruise will develop your entertainment. I suggest you visit here during fall, as canal St. Martin is the best place in Paris to enjoy in fall. If you are quite movie buffs, then it is not bad to search your known movie locations over here.
Boat Cruise in Bois de Boulogne.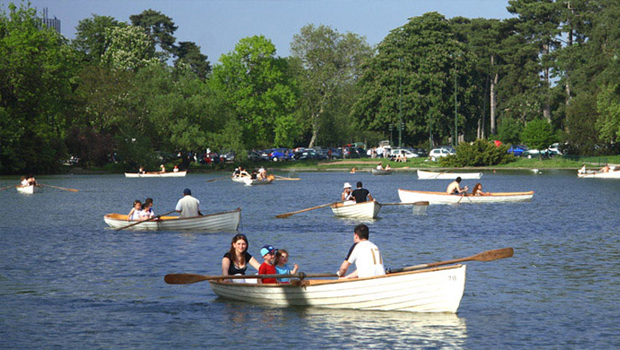 Imagine a boat ride only with your partner down the large lake, how memorable it would be? I mostly prefer Sunday afternoons for this task. For that, you have to go to Bois de Boulogne which is a public park in Paris. Then you have to rent a boat. Although it costs some money, the relaxation or the serenity you gain by this purpose cannot be cost. I suggest you enjoy a hand paddling boat ride, so that both of you can admire everything to the fullest.
Sip Wine and Read Books at La Belle Hortense.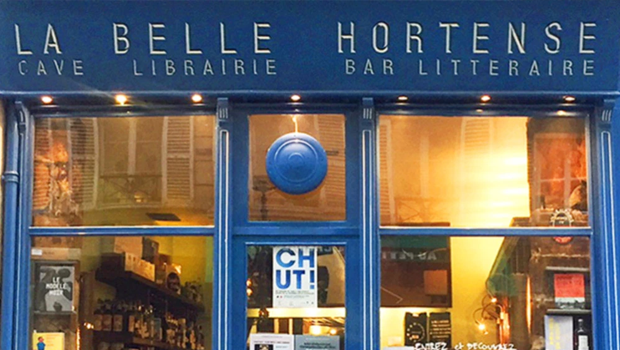 A small but a cozy wine bar in Marais, this place allows you to read books while drinking French wine. This dark corner lit up with magic candles is actually a bar-cum-bookstore. Maybe this is the only book shop in Paris which opens early in the morning. Come here with your love. The atmosphere with candles light, wine and books is a perfect match for romance. I think this is a perfect place to compare your literary prowess with your partner.
Watch a French Cinema at Studio 28.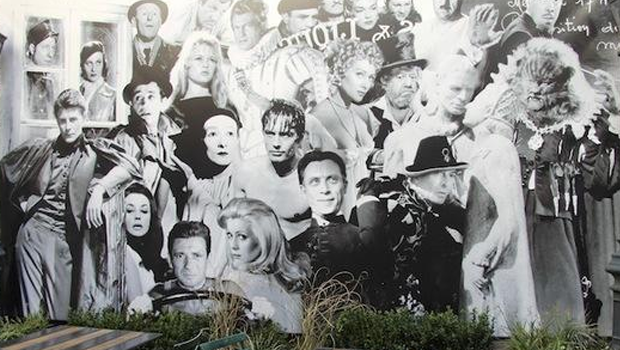 If you are searching for a film with your partner, then Studio 28 is the right place. It showcases the oldest cinema in Paris which hasn't touched you in time, Vintage French films and English and French films as well. Grab your ticket from the retro ticket booth and sit in dark with your love for few hours and try to understand the amazing French language dubbed in fascinating storytelling.
Enjoy the Sunset at Butte Bergeyre.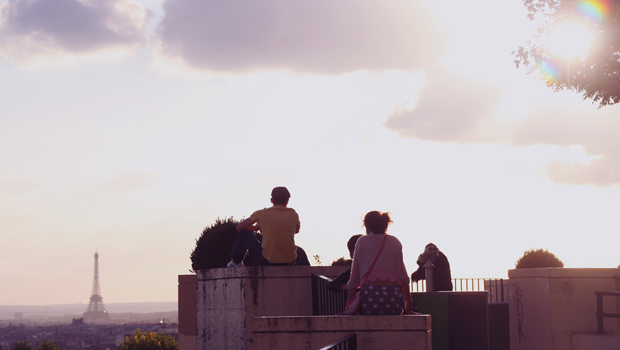 On the edge of a secret village on the top of a mountain in the east of Paris, there is a sunset drinking spot with a clear view of the Sacre-Coeur. As the sun sinks below Paris's rooftops, you will be looking at a private vineyard. The bench here is possibly reserved for lovers. The streets here are very quiet up here and there are a million little things to do, from beautiful houses to stunning balconies bursting with flowers, lots of dreamy magical incidents to fall in love with. I personally find sunset time as the perfect time to sit next to your partner and make love. So if you come to Butte Bergeyre, its panoramic views can overflow your joy.
Dress up for dinner at Hotel Plaza Athenee.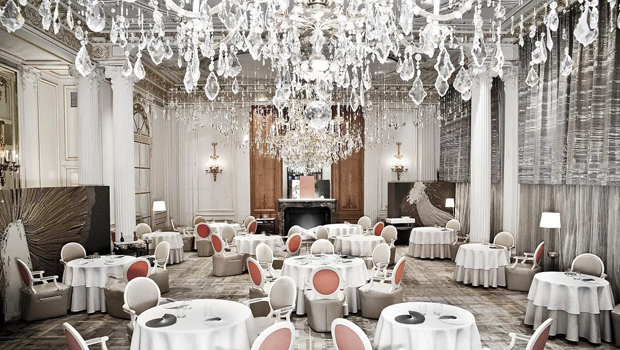 You might like to have dinner with your love, if so this is the perfect place for that. A luxurious 5-star hotel in Paris. The red colored decorations enhance the romance during dinner. I suggest dinner on weekends. It will be a perfect time for you both to taste a delicious candle-light dinner while sharing your ideas with each other. And I obviously find Hotel Plaza Athenee as the best place to express your love for the very first time with an adorable dinner.
Have breakfast at La Palette.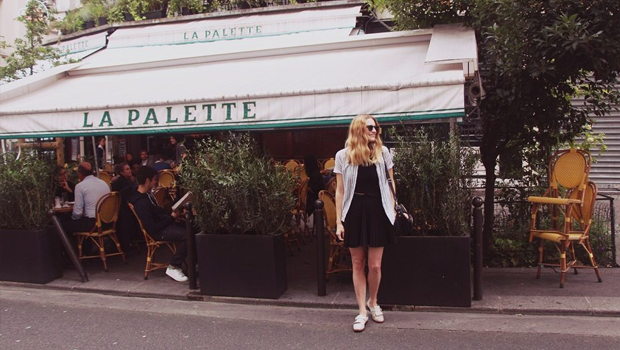 A best place to flirt with your date. Its atmosphere is relaxing which is a perfect match for a couple. Try a plate of cheese with wine or great eggs along with your partner. You will find La Palette as a cool hangout with great food and good atmosphere. Kiss sharing couples are mostly found in the art deco back room. This is a café or a brasserie-type restaurant and a historic monument in Paris. It would be a memorable hour for a couple to have breakfast sitting on the cute yellow bistro seats under this white and green shelter.
Now, how are you going to book flights to Paris from Hong Kong? You can book tickets online through the Cathay Pacific Website. Team Cathay Pacific's mission is to make the most out of your travels…so this applies when you fly to Paris as well.