Europe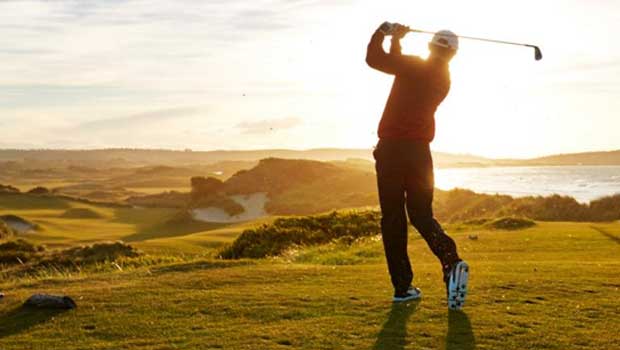 Published on June 29, 2016 | by Chris Holt
0
Top 5 Must-Play Golf Courses in Europe
When it comes to playing golf in Europe, we really are spoilt for choice. The number of golf courses to choose from is amazing, with almost every country within the continent, having something to offer. However, for the discerning golfer, there is a selection of European golf courses, which stand out from the crowd.
Monte Rei Golf and Country Club in Portugal
A fine example of one of Europe's great golf courses to play, hugely popular with golfers is a particular golf course located in the Algarve, Portugal. Monte Rei Golf and Country Club, is located in the foothills of the Eastern Algarve and was designed by Jack Nicklaus. Opened in 2007, Monte Rei is a relatively new golf course but offers a unique playing experience, with water coming in to play from the 11th to the 18th hole. The condition of the fairways and greens is excellent and every hole is varied and challenging. There is nothing to dislike about Monte Rei and you are assured of a lovely welcome, every time you arrive at the course. This is not a cheap golf course to play but as the saying goes, 'you get what you pay for' and this is certainly the case with Monte Rei.
La Manga Club in Spain
Portugal's next door neighbour, Spain, is without doubt home to some of Europe's most playable golf courses. Located in the Murcia region, of south-western Spain, is La Manga Club. This club is home to not just one but three, fantastic golf courses. Named the North, South and West Courses, it's the latter which is often regarded as the pick of the bunch. The golf course is very well manicured and looks stunning to the eye, with tremendous scenery throughout. The holes vary considerably, offering players a good challenge and 100% focus is required on each of them because despite it's good looks, the West Course is a very tough course to play. Expect any bad shot to receive full punishment but do not let this stop you enjoying the golf course, which is fantastic and comfortably one of the best in Europe. That's not to forget the North and South Courses, which provide their own challenges and combine to make La Manga a great place to stay for a weekend of golf.
Golf De Morfontaine in France
Moving further up the European mainland now and France is a country which boasts some tremendous golf course, none more so than Golf de Morfontaine. Located in Chantilly, Golf de Morfontaine, was designed by architect Tom Simpson, who comes with a great reputation, having also worked on Royal Lytham & St Anne's. The greens are a real standout feature on this golf course, being wide, undulating and well-guarded by a number of tricky bunkers. The fairways are also wide and lined by pine trees and heather and it's easy to drown in the tranquil surroundings, having hit a good tee shot. However, this is where the real challenge of Morfontaine begins, with the approach shot to every green critical. There is an understated charm to Golf de Morfontaine and the mystique surrounding it, is perhaps added to by the fact it's only playable by invite, from a current member. Despite this fact, it was impossible to leave such a spell-binding golf course, off the list.
Falkenstein Course at Hamburger Golf Club in Germany
Being the home of golfing greats, such as Bernhard Langer, it's little surprise Germany offers a range of great golf courses. Perhaps the pick of the bunch, is the Falkenstein Course at Hamburger Golf Club. The setting is a world away from the nearby city of Hamburg and it is a natural course, set in picturesque heathland terrain. The fact the German Open has been played on the Falkenstein Course on numerous occasions, is testament to the quality and playability of the course. A number of doglegs, with a couple of straighter holes, provide plenty of interest throughout, in addition to the hills and valleys. The fairways remain firm and fast, which is not always the case on heathland golf courses and this makes the Falkenstein Course, not only one the best in Germany but also in Europe.
Royal County Down in Northern Ireland
Heading across the English Channel, to the United Kingdom, this is a region of Europe famed for its links style golf courses. There are plenty to choose from, from within Wales, England and Scotland but it's Northern Ireland and Royal County Down, which tops our list. Despite never having hosted the Open Championship, the Championship Course at Royal County Down is something special. Naturally undulating fairways, with yellow gorse and purple heather clinging to the sand dunes, the greens are small and difficult to read, making it a true test, for even the greatest golfer. This is a golf course which imprints in to the memory, with a number of holes which will be remembered for some time and that's the sign of a fantastic golf course. The course is very well maintained, yet at the same time, slots naturally in to its surroundings, which are stunning.
There are plenty of other golf courses in Europe, which are worthy of a mention here, including St Andrews in Scotland, Noordwijkse Golf Club, in Holland, Golf Club Adamstal Franz Wittmann, in Austria, Gardagolf Country Club, in Italy and Royal Zoute, Belgium. There also plenty more, world class golf courses, in the other countries mentioned above. However, if you were to pick only five golf courses to play in Europe, then you could do a lot worse than the five selected above.