Festival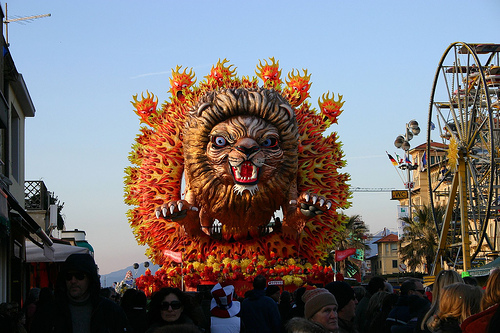 Published on February 3, 2011 | by Francy
0
Papier-mache. true protagonists of the Carnival of Viareggio
The Carnival of Viareggio is that of Burlamacco, the clown created by the painter Umberto Bonetti in 1931, whose name is the union of Burla (joke) and Buffalmacco, a character of the Decameron.
The Carnival of Viareggio is famous all over the world for paper mache masks, whose first issue dates back to twenties and which today, besides representing fancy people and animals are also created for mocking politicians and stars.
The Carnival of Viareggio is a multifaceted event, rich in artistic and cultural events, where satire and irony are the essential features for fun. The most important events of the Carnival of Viareggio are the parades of masks and the large allegorical floats: there are five shows that are held on Sundays between February 20 and March 13. To attend the parades, held on the promenade facing the sea, you have to pay a ticket, between 15 and 30 Euros.
But the Carnival in Viareggio is not only shows and parades. In all districts (the Rioni) are held parties and celebrations: it is a real competition on the organization of the more entertaining and popular events and the winning district is awarded with the Palio, a prestigious award.
This is the program of celebrations in the districts: February 19-20, 2011 – party of Torre Del Lago Piccini District, February 25 to 27 – party of Marco Polo District, March 4 to 8 – party of Baccanale Darsena District, March 11 to 13 – party of Croce Verde Centro District, March 11 to 13 – party of Quattro Venti District.
During the Carnival of Viareggio, broadcast also on national television, there is the Festival della Canzonetta (Feast of Song), an event that dates back to twenties and has seen over time the participation of some familiar faces from the world of show business and Italian music.
Advanced booking at hotels in Viareggio for the weeks of Carnival, is mandatory: for those who want to take advantage of visiting some beautiful Tuscan cities while participating in the Carnival, Lucca and Pisa are very close and easily reachable by car and public transport.
Photo by rebendeviaregia