City Breaks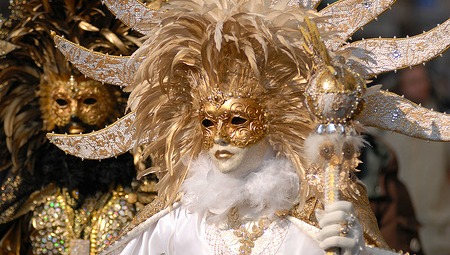 Published on January 23, 2013 | by Daniela
0
Let's get the Carnival started!
The festivity known as Carnevale, is mainly celebrated in Italy but also in many other places around the world. Better known as Carnival or Mardi Gras, it's a sort of "final" party before Ash Wednesday, and it falls 40 days before Easter (so the actual date changes yearly) so, strangely enough, its roots lie in the Christian calendar.
People often dress up or masquerade during the celebrations, which mark an overturning of daily life…
Of course, we cannot fail to mention the Rio Carnival in Brazil, held from February 9 to 12 this year, which is one of the largest and most colorful carnivals in the world. But we're here to pinpoint Europe's Carnivals, so let's take a look at what happens in the Old Continent when these crazy, bouncy days come…
Masking during parades and parties is one of the most important elements of Carnival celebrations. One of the reasons why masks are an important part of such rituals is because they conceal one's identity, so revelers can safely celebrate and mock their social superiors, without fear of reprisal. The culmination of Carnival is on Fat Tuesday – February 12, for 2013 – although celebrations are usually started from days or even weeks before.
Carnival in Spain
In Spain, Carnival is celebrated throughout the Country, including the Balearic Islands and the Canary Islands. It starts with the crowning of the Queen of Carnival, and its highlight are the masquerade parades. The Croatian carnival is mainly focused on frightening evil spirits away and bring in the Spring, so along with the usual parade, they also present an effigy that is burned to symbolize a healthy, new beginning.
Carnival in Greece
In Greece, Carnival dates are tied to Greek Orthodox Easter, which is usually different from Western Easter. The Carnival in the Greek city of Patras, (February 24-March 18, 2013) ranks in the top three carnival celebrations in the world, after the better-known events in New Orleans and Rio de Janeiro.
Carnival in France & Netherlands
In France, the most popular Carnival is the Mardi Gras Parade of Place Massena in Nice (February 15-March 18,) while in the Netherlands, the "Vastenavond" is mostly celebrated in Catholic regions like the southern provinces North Brabant and Limburg. Typical Dutch Carnivals include a parade, a farmer's wedding and eating herring on Ash Wednesday.
Carnival in Portugal
One of the most famous Carnival parades in Portugal is in the town Ovar, near Porto, where participants and their families work year-round to prepare their elaborate and humorous costumes and floats.
Carnival in Italy
And here we come with the place where Carnival is most strongly cherished in Europe: Italy. There are many Carnevale celebrations in the Country, but one of the most popular, in Italy and Europe, is held in Venice. Venice's Carnevale di Venezia starts about 2 weeks before the actual date, indeed this year it will run from January 26 to February 12. A lot of work goes into making a unique mask that stands out, some are made from porcelain, leather, and even glass! The festival also includes gondola and boat parades along the Grand Canal, mask parades in St. Mark's Square, and a grand fireworks show on the final day to end the carnival celebration.
Always in Italy, worth a mention even Viareggio, on the Tuscany coast, with a Carnival renowned for the giant, allegorical paper maché floats used in parades, and Ivrea, in the Piedmont region, where the colorful parade is followed by orange-throwing battles in the town centre.
Carnival in Germany
In Germany, celebrations kick off with "Women's Carnival" on Thursday before Ash Wednesday, a day when ladies can kiss any guy that they want as long as you cut off his tie! Karneval is held across the country with notable parades taking place in the Rheinisch-Bergisch County and Cologne, and while "Tarallucci e Vino" (Taralli and wine) take center stage in Italy, Beer is the main revolving point for most carnival festivities in this country.
Well then, let's get the Carnival season started for 2013. The whole world loves to party and nearly every country on earth has its own, peculiar carnival celebrations. Most places in Europe and around the world that hold carnival festivals will have the same dates, but some don't. So check out the Calendar first, but hurry up or you'll be late for the show: time is very short and hotels in Europe may be sold out fast!
Photo by Us Army Africa