Food & Wine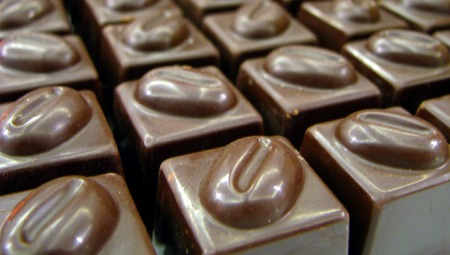 Published on May 8, 2012 | by Francy
0
The capitals of chocolate around Europe
The magical taste of cocoa has been alluring people all over the world for centuries. There are many companies in Europe who are into the manufacturing of chocolate and other food products using cocoa. One thing that makes cocoa so special is the feature that it can be made to various products with different tastes. In the market there is a huge variety of chocolates sold like valentine chocolates, semisweet chocolates, Santander chocolates, chocolate bars, truffles, pralines, and molding chocolates, you name it!
That is why the European chocolates like Cote d'Or, Amedei chocolate and other cocoa products including the ones made with Valrhona cocoa are ruling this market all over the world.
Many countries in Europe boast a long tradition of sweet delicacies, but here are the cities that the most gluttonous of you definitely cannot miss out on when it comes to chocolate.
The first of these can only be Vienna, with its Sacher Torte. This is an iconic Austrian cake, invented in 1832 by Franz Sacher in Vienna, and is based on chocolate, of course. It is one of the most famous Viennese culinary specialties. The only place where the Original Sacher Torte is available outside of Austria, is in the Sacher shop of Bozen, Italy.
In France, Valrhona Chocolates Company – based in the small town of Tain-l'Hermitage – is considered to be one of the leading producers of chocolate, with five subsidiaries and 60 local distributors all over the world.
Switzerland is a small mountainous country, whose climate is anything but tropical, so it may seem surprising that it has become one of the world's leading chocolate manufacturers. Chocolate is not only an industry in this small country; it is a way of life. Each season, festival, and region has its own chocolate specialty, from Easter edible bunnies, to chocolate chestnuts and chocolate mushrooms in autumn and chocolate flowers in spring.
Italy's Capital of chocolate is definitely Turin, with the great specialties as hot chocolate and the famous Gianduiotti. Until March 11th 2012, in Turin you will enjoy Cioccolatò, the famous chocolate fair annually held at Piazza Vittorio Veneto. With its several initiatives scheduled, including a Gianduiotto Day and a Spalm Beach, this event is a fantastic opportunity to enjoy and taste many kinds of chocolate and delicacies and find out more about chefs' secrets and recipes.
Last but not least, Belgium may be known as the Capital of Europe but some consider the nation the Capital of Chocolate as well. Indeed, the Country produces 172,000 tons of chocolate per year sold in over 2,130 Belgian chocolate shops. Currently, anyone knows Guylian's sea shell chocolate, Belgian pralines, and chocolate brands as Godiva, Leonidas, or Marcolini. Belgium's first chocolate shop, Neuhaus, opened in Brussels in 1857 and still exists. In addition to the many local and national chocolate makers, you can even find a variety of public tours and demonstrations available for guests, as well as a delightful chocolate museum!
Photo by Kirti Poddar