Food & Wine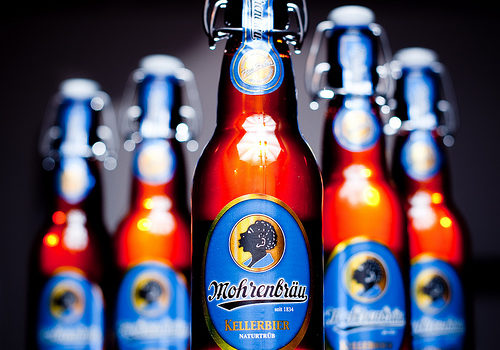 Published on July 18, 2018 | by Germanico
0
Oktoberfest: how to choose the beer
The brewers of Munich are already busy preparing the nectar which will be poured in millions of gallons into the mugs of the Oktoberfest (September 21th – October 6th ). Also this year the legendary festival in Munich – held, since 1810, at the Theresienwiese field – is expected to draw millions of visitors. But to know how to choose the right beer it is best to read the following information.
The Bavarian beer par excellence, the Lager Muncher, is a close relative of the Märzen, the beer brewed especially for this great event. Here in alphabetical order are the most important Bavarian beers which will be tapped in several breweries in the Festhalle.
Augustiner
Pale color, poured with almost no head, scent of hops, malt and caramel. Suitable with rice dishes. The Augustiner brewery is in Neuhauser Strasse 27.
Ayinger Weisse
Ayinger is a village in the Alps near Munich. Here this Weisse is produced; pale straw-colored, a rather thick head of foam, scents of flowers and ripe fruit. Suitable in combination with a platter of bacon and asparagus rolls.
Eku 28
The Eku 28 is brewed in Kulmbach, north of Nuremberg. Its Lager Dopperbock has an amber color, strong taste of malt, fruity fragrant with little to no head. It has a high alcohol content, it is recommended with red meat or game.
Erdinger Weissbier
Erdinger is the main wheat beer factory in Germany. This beer has a white foamy head, its color is yellow, the aroma is fruity, flowery and spicy scented. The Erdinger brewery is located in Erding town, in Upper Bavaria.
Franziskaner
The most famous Spaten of Munich, with intense aromas of fruit, fresh flowers and grains. It's one of Germany's oldest beers. Goes well with white Bavarian sausages and smoked cheeses.
Hacker-Pschorr
This Weizen of Munich has a fruity scent and a persistent head. The taste of yeast dominates with a hint of smoke. These features make it ideal to accompany pasta with tomato sauce and white meat.
HB Münchner Kindl
This is a classic example of Bavarian Lager. Golden colored with a compact head, classic scent of malt. Because of its delicacy it is suitable with cold cuts and boiled fish dishes.
Lowenbrau
Beer with a thick foamy head. It has an aroma of fresh herbs and hops. And it's one of the most famous breweries in Munich and definitely a favorite during Oktoberfest. The Löwenbräu brewery is in Nymphenburger Str. 2.
Paulaner Hefe Weissbier
The Paulaner dates back to 1634 and now produces 6 or 7 specialty beers. This beer has a compact head, floral and slightly bitter taste. Ideal with grilled freshwater fish. The Paulaner brewery is in Kapuziner Platz 5.
Photo by Matthias Rhomberg