Internet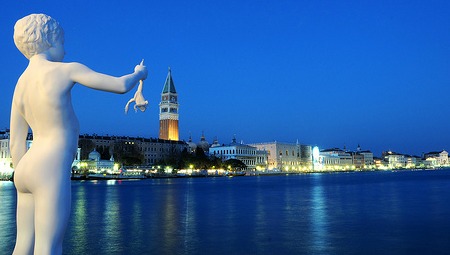 Published on April 19, 2013 | by Daniela
0
That's Venice! Tips & ideas for visiting Venice
We are pleased to announce that a new building block has been added to our project That's Italy: That's Venice!. After That's Amalfi!, That's Milan! and That's Florence!, our tour guide of Venice is now ready.
That's Venice! follows the modus operandi of the previous portals. Therefore, it's a travel guide full of information, perked up by colorful photographs, interesting contents and easy read. And it's a guide for curious tourists, who not only want to know but also understand and get familiar with what they see and do. So That's Venice! doesn't provide only detailed information on the churches, museums and palaces in Venice, not only information on streets, squares and bridges, but also many tidbits to stimulate the desire to learn more about the Serenissima, pearl of the Mediterranean Sea in the XVIII century.
For each item of our Venice guide we've been looking for (and always found) a quid, a little curiosity, that something in particular that adds spice to the information itself. In short, we will undeniably tell you many things about what you can see in Venice, about the magnificent works of art in all its churches, the Gothic and Renaissance palaces, the precious paintings found in the museums halls. But for each museum, church, palace or campiello, we will also tell you a story that enriches it further.
Nonetheless, it is unimaginable to visit Venice in a weekend, see all the wealth that the city has collected over the centuries within its walls, or rather, amid its banks. Two days in Venice are not enough to admire the dozens of works of art by each great artist who here has competed with others in the decoration of palaces and churches. And we're not talking about minor painters, but world-renowned masters such as Tintoretto, Titian, Veronese, Lotti, Palma Giovane, Bellini, Carpaccio, etc..
That's Venice has a specific purpose instead: to help you decide what to visit in Venice, which palaces, which churches and which museums. This guide has to be read before you travel to Venice, or in the evening on your tablet before you go to bed in one of the many city hotels overlooking the Grand Canal. This is more a tool for planning your Venice trip, to help you not to miss out on something that may bear a special meaning to someone rather than to another.
For example, the first choice could be this: is it better to enjoy the panorama of Venice from the top of the bell tower of San Marco, or San Giorgio Maggiore? Indeed, both entail a view over the city, but from different perspectives. And That's Venice will explain the differences between these perspectives (and not only that, but also how to get there and how much money you will need) thus giving you the chance to choose.
And then more. The Accademia Galleries are a must visit, but in the time left of your trip to Venice, is it better to visit the Correr Museum or Ca' Pesaro Oriental Art Museum? Of course, it depends on your tastes, but after reading That's Venice!, you could change your mind, who knows?
Finally, we've also reserved a section to present a few boutique hotels, exclusive hotels where you can enjoy a dreamy stay. These are 4 and 5 star Venice hotels, where the latest technology, satellite color TV, free broadband Internet access, in-room Jacuzzi, are immersed in an ancient atmosphere, made of tapestries and antique furniture, XVIII century paintings on the walls and of course, loads of Murano glass items, from chandeliers to lamps, from ornaments to candleholders. As already said, they are hotels where you will dream, rather than just sleep.
This travel guide to Venice, a richly illustrated portal, is part of the Traveleurope project entitled That's Italy, a digital journey through the most intimate facets of major cities and tourist attractions found in the Bel Paese. After That's Milan!, That's Florence!, That's Amalfi! and Venice, the next installments will be Rome and Naples. We will keep you updated.
We claim to offer a comprehensive store of information in these travel guides, but of course we might be wrong. So please tell us your opinion, give us new insights and tips on how to improve our work. What do you think about it?
Photo by mauro.puppet_photography