Internet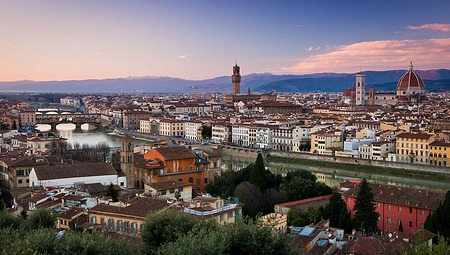 Published on September 20, 2012 | by Daniela
0
That's Florence! Ideas, tips and suggestions to visit Florence
That's Florence! is a portal that takes tourists visiting Florence on a virtual tour out of the ordinary. Leaving up to Wikipedia the task of describing in detail each of the works contained in the 45 rooms of the Uffizi Gallery, the features of the altars in the left nave of Santa Maria Novella, the minutiae of the arcades and portico of Palazzo Antinori, That's Florence! deals, instead, with the visit of the city in a more direct way. It is rather a poetic and fresh travel guide of Florence, full of anecdotes and curiosities, of different ways to look at the buildings, churches, monuments and even the cafés of Tuscany's Capital City.
That's Florence! is a travel guide of Florence that leads tourists by hand to enjoy all the taste that emanates from the city known as the Cradle of Renaissance, made beautiful not only by the work of the greatest artists of the time, but also artisans, enlightened politicians and visionaries of a new world. A different world, but still very well learned.
That's Florence! presents Florence with all its load of art and humanity, which things are highly related one another. Because walking in the streets of the historical centre, shopping in the showrooms in Via de' Tornabuoni, tasting the delicacies of Florentine cuisine, browsing through the windows of the jewelers on Ponte Vecchio, walking along the streets already covered by the Grand Dukes and the Cenci, purchasing the best leather and iron items in the workshops of Oltrarno, is as indispensable as visiting museums, churches and monuments.
Florence is an almost sacred place, heritage of all mankind, but it is also a city full of curiosities, entertainment, gardens, contemporary attractions, culture, appointments and events. Florence presently exists in the balance between being a nest of art and a metropolis, divided between old books and Apps for Smartphones, between the classical world and the hustle and bustle of everyday life in the XXI century.
That's Florence! wants to tell a bit all the stories of Florence. Those with a capital "S" of the Medici, Lorraine, and Savoy families, or Michelangelo and Leonardo, Vasari and Michelozzo. But also the 'stories' with a small "s", those of the young, whistling idlers (even today, actually,) of the girls out of the Caffè Gilli in Piazza della Repubblica, the Festival La Fiorita that every year commemorates the burning of Fra Girolamo Savonarola, the bees carved at the foot of the equestrian statue of Ferdinand I in Piazza Santissima Annunziata, the Elixirs made from herbs, spices and saffron once sold in the pharmacy of the Dominican Fathers in Piazza San Marco, the Diavolino del Giambologna on the wall of the Vecchietti Palace in Piazza Strozzi.
That's Florence! is a travel guide of Florence a bit out of the ordinary. Because Florence itself is different from any other city in the world, so ancient, so modern, so snobbish and so popular.