Hotels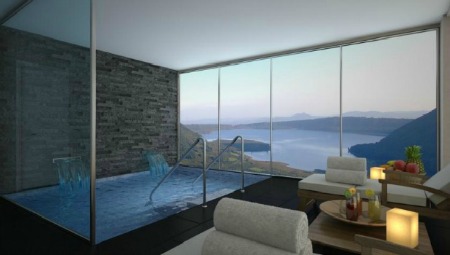 Published on September 23, 2013 | by Francy
0
New luxury hotels in Italy
The choice of luxury hotels in Italy is enriched with 4 new entries that come out from the Arabian Nights! 4 hotels designed for special occasions, for a romantic weekend or simply for those who want to treat themselves to a luxurious stay in the Bel Paese! Cesenatico, Capri, Venice, and Ronciglione await you with 4 high-class proposals! Let's discover them together!
Grand Hotel Leonardo da Vinci in Cesenatico, a 5 star hotel by the sea
Grand Hotel Leonardo Da Vinci is located near the sea and a short walk away from the centre of Cesenatico. This 5 star luxury hotel built on the ruins of the ancient Colonia Veronese, overlooks the harbor designed by Leonardo Da Vinci, surrounded by typical colorful houses, restaurants and trendy boutiques!
Grand Hotel Leonardo Da Vinci belongs to Select Hotels Collection Hotel Chain, and is designed to offer guests a unique, elegant and refined place where nothing is left to chance and everything is cared for in the slightest detail.
The main building, in the shape of a horseshoe, hosts the circular reception desk over a white marble floor with inlays and the lobby topped by a dome and a roof garden. The immense park that separates Grand Hotel Leonardo da Vinci from the beach is a fine French garden, with a bar and a play area for children, as well as a space dedicated to concerts and plays during the summer.
The Restaurant that during the summer opens on the immense park of the hotel serves typical Italian and international dishes and is able to satisfy even the most discerning palates.
Rooms of this 5-star luxury hotel are the emblem of sophistication and elegance! They boast hand-painted ceilings by local artisans, and each room has its own peculiarities. Some are decorated in Renaissance style and others in the Baroque style, they have warm wooden floors and mosaic -tiled bathrooms with shower and bath tub. Among them, the Suites in the charming sixteenth-century tower of the hotel definitely stand out. Featuring a separate bedroom and living room , these suites have marble bathrooms designed by Versace design, fireplace, large screen televisions and for those who wish an even more customized service, it's possible to book a butler service!
Meliá Villa Capri, a unique design hotel
Meliá Villa Capri stands in all its beauty in a prime location in Anacapri, just 15 minutes drive from the famous Piazzetta of Capri. This design hotel furnished with modern furnishings and bright colors is the ideal accommodation for a relaxing stay in Capri.
The 19 luxurious rooms and suites at Meliá Villa Capri are unique in their kind . All rooms have free Wi-Fi, some have direct access to the pool, others boast an IPod docking station, Nespresso coffee machine, while others have bathrooms with bath tub and courtesy kit branded Meliá.
The hotel also offers refined and elegant dining, with 3 dream places: Blue Lounge, Blue Pool Lounge and Alta Marea Restaurant. Blue Lounge is the ideal location for breakfast, a quick lunch or a refreshing Italian aperitif; Blue Pool instead offers an exclusive selection of food and drinks with concierge service and a relaxing pool area with solarium and music; finally, Marea Restaurant, furnished with exclusive Frau chairs, awaits guests with hearty breakfast buffets and a la carte dinners, and serves Mediterranean cuisine and typical dishes from Capri.
And how could we fail to mention the space dedicated to relaxation and the care of the body and mind, Meliá Villa Capri's YHI Wellness, with 4 cabins for beauty treatments, sauna, Turkish bath, emotional showers and Kneipp paths.
Aman Grand Canal in Venice: the first 7-star hotel in Venice
The award-winning Amanresorts hotel chain has chosen the romantic Venice to open its own luxury hotel. Overlooking the Grand Canal, halfway between the Rialto and Accademia bridges and San Polo district, Aman Grand Canal is a 7-star luxury hotel housed in a charming 15th- century building named Palazzo Papadopoli.
Like any self-respecting Aman resort, also the Aman Grand Hotel in Venice boasts a beautiful natural setting and a limited number of suites, precisely 24, to ensure exclusivity and privacy. The uniquely designed suites are characterized by refined and precious frescoes as well as sophisticated bas-reliefs, and are equipped with a satellite TV and Docking Station for Ipad, king size bed and wardrobes with personal bar. It is worth mentioning a fresco by Tiepolo in one of the suites, and an original fireplace by Sansovino in another one.
With its high ceilings and historic frescoes, the lobby offers an elegant welcome and is an anticipation of all the majesty you will find inside the hotel. The outdoor area on the main floor, in fact, has been reinvented in the early '900 by Michelangelo Guggenheim, the greatest exponent of Neo – Renaissance and Rococo styles, who has transformed Palazzo Papadopoli in a symbol of this artistic movement. Private gardens, an exclusive spa and two restaurants, an Italian one with fusion flavors, and a Japanese one, as well as a beautiful library with a wide selection of art, fashion and design books, complement the exclusive services of this luxury hotel in Venice.
Netis Gourmet Hotel & Spa, wellness and taste by the lake
Netis Hotel Gourmet & Spa awaits you on the shores of Lake Vico, immersed in the silence and beauty of a nature reserve of over 3,200 hectares. A few kilometers from Viterbo and one hour 's drive from Rome, this 5-star hotel is the ideal accommodation for a holiday in the greenery and to discover the history and local traditions of this wonderful place.
The refined and elegant indoor and outdoor areas allow a continuous contact with the surrounding nature and the exclusive and personalized services will make you feel pampered 24 hours a day. The 21 rooms furnished with taste and attention to detail are equipped with the latest amenities and ensure a relaxing rest. Before checking -in you will be able to choose the products to be included in your courtesy kit, the selection of pillows and sheets of your bed and the products for the mini-bar.
At lunch and dinner you can delight your palate with a wide selection of local dishes to be enjoyed with a glass of the best Italian wines.
The hotel also provides special wellness services for the care of the body and mind, thanks to a rooftop spa. Hotel Netis' spa has an indoor Jacuzzi pool, as well as sauna, Turkish bath and tropical shower, but also offers wellness paths and personalized massage sessions.
Now which of these 4 luxury hotels would you choose?