Oddities
Published on December 23, 2013 | by Francy
0
Most visited cities in 2013
By the end of each year, just as in Tolstoy's Kreutzer Sonata with the seller of almanacs, we are inclined to interpret the past before we even look at the future in the eyes with the upcoming new year.
Yet communication experts don't "wrap things up" as we do, but rather draw up the charts, a more elegant way to express the same concept and achieve the desired result.
Within the travel and tourism industry, the giants of communication and services, none other than MasterCard, Condé Nast and Facebook, have published the ranking of the most visited cities in 2013. The results are not necessarily identical, and therefore it is really worth making a few comments.
Facebook for example has used a lot of data in its possession to draw a map of the 25 places where tourists have made a greater number of check-ins during 2013. It is comforting to know that even Italy with the beautiful Piazza San Marco in Venice is in this worldwide Top 25.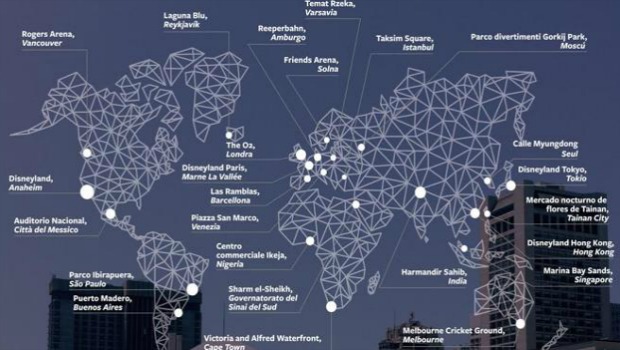 Even Mark ZucKerberg's with one of his young nephews must have put his paw in drawing up this map, because Disneyland has an absolute majority of check-ins with 4 appearances in a global symbolic worldwide embrace between Hong Kong, Tokyo, Anaheim in California and Paris. Amusing is the presence of the Melbourne Cricket Ground, which I do not know personally, but I have no reason to doubt that it deserved a place next to Piazza San Marco in Venice and Las Ramblas in Barcelona.
The secular nature of this list is then certified by the presence of the Reeperbahn red light district of Hamburg next to the Golden Temple of Amritsar, holy for the Sikh, located in the state of Punjab, India. The hedonism of the general ranking also emerges for the beaches of Marina Bay in Singapore and Sharm el-Sheikh, but also for the choice of the Barrio of Puerto Madero in Sao Paulo that has a beautiful waterfront, not to mention the town behind.
Condé Nast Traveler, instead, inspired too by the fever of the seller almanacs, has recently announced the winners of the Readers' Choice Award a ranking based on 1.3 million votes cast among its readers who were asked to indicate their preferred destination for 2013 among those proposed. Again, Italy is in the winners list with four cities: Florence in second place, Rome and Siena respectively in the eighth and ninth, while Venice is twenty-fourth.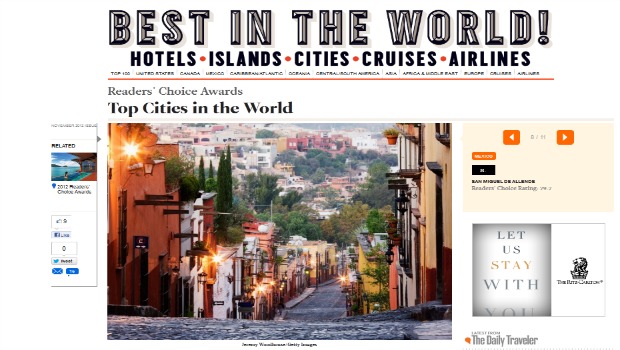 It's interesting to note that this list has nothing else than Paris in common with Facebook's proposals. It is clear that the two charts reflect trends and cultures of different generations, as well as belonging to geographical areas very distant from one another, because the differences are very marked. Eight of the cities mentioned by Facebook are European cities, against the 13 cited by Condé Nast, among which Budapest, Prague, Vienna, three Spanish cities – Barcelona, ​​Seville and San Sebastian – and the delightful Salzburg and Bruges, in addition to the aforementioned Krakow and Paris. 7 are the favorite destinations in the Americas, instead, of which as many as 3 are in Canada and Quebec: Quebec City, Vancouver and Victoria, in addition to Santa Fe and San Miguel de Allende and Charleston, the latters in first and fifth place respectively. The East is represented in the ranking of Condé Nast only with Kyoto, against Facebook's Hong Kong, Tokyo, Harmandir Sahib, Singapore, Seoul, and Taiwan. Finally, among the travelers' favorites in Australia there are Sydney and Melbourne, while in Africa, Beirut and Cape Town.
The Top 10 of the world's most visited cities in 2013 compiled by Mastercard, features once again different destinations than the previous ones.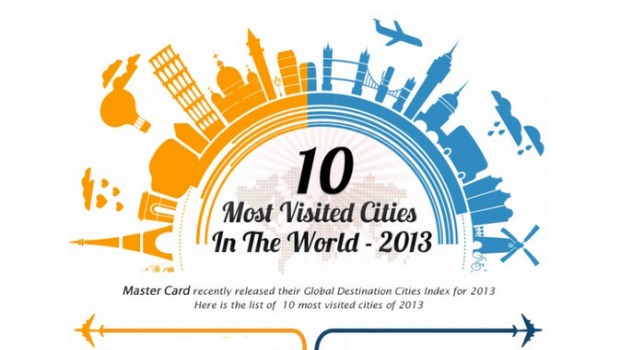 The Gold Medal goes to Bangkok with 15.98 million tourists a year, followed by London with as many as 15.96 million visitors, Paris, the city of lights, in third place with 13.92 million tourists. These are followed by Singapore and New York in fourth and fifth place, which host nearly 12 million people every year, Istanbul with 10,37 million tourists, and Dubai and Kuala Lumpur with just under 10 million travelers. On the bottom of the chart, so to speak, there are Hong Kong and Barcelona with just under 9 million visitors a year. On closer inspection, however, this ranking seems to reflect the TOP-Seller destinations among new and not so new rich of the 21st-century.
Indeed, here Italy is no longer present, as maybe it's been excluded by these new routes that cross oceans and continents linking Singapore to Dubai, Bangkok to London, Istanbul to New York and Barcelona. None of these cities have less than two-three million inhabitants and are all, in their own way, economically emerging cities, something that cannot be said about Condè Nast's Siena, Florence, Venice, and Rome, although all these cities boast an unmatched historical and cultural charm throughout the world.
However, as they say: "it takes all kinds, it takes all sorts." In the end, it is normal for people to have different points of view, because each judge according to their own culture, their own possibilities and why not, their own dreams.
Let's leave Dubai and Hong Kong to the Americans and the Australians, and let's be content with the fact that Russians and Chinese choose the charm, culture and fashion of the Bel Paese.
Happy New Year to everyone, and … enjoy your trip!