Summer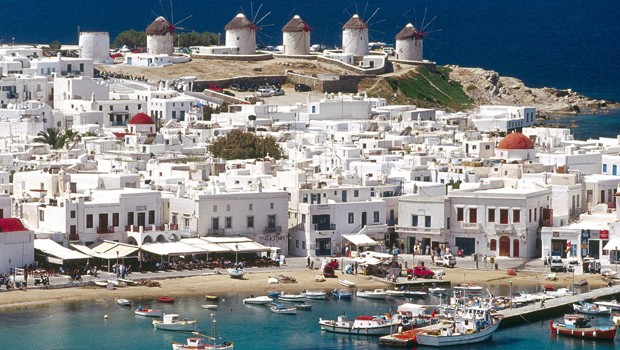 Published on April 19, 2011 | by Andrea Guerriero
0
Summer Holidays in Mykonos
Mykonos is perhaps one of the most famous and popular islands in Greece, attracting thousands of competing tourists who hanker after a wonderful summer holiday in a luxury resort overlooking the most beautiful beaches of the Mediterranean.
One of the landmarks of the island are certainly the windmills of Kato Myli, located near the Port and the main urban center, Chora, a beautiful town boasting typical white cubic houses with blue doors and windows. The objects found on this site are displayed in the Archaeological Museum of the town. Other museums in Mykonos include the Folklore Museum, the Museum of Agriculture and the Maritime Museum.
In the area you can enjoy the best Greek cuisine based on fish. The Taverna Tasos offers low prices and local cuisine in a friendly atmosphere. At the Axinaioi Restaurant you will appreciate specialties based on Axinaioi – typical seafood considered a true delicacy – along with a wide selection of Mediterranean food, enjoying a breathtaking panoramic view.
Mykonos also boasts the presence of world-famous lounge bars, such as the Cavo Paradiso, Argo, Tropicana and Dance Space. Among the most beautiful discos: Paradise Club – with great dancing parties starting from five o'clock, and the Spacedance Club, a not-to-be missed in Mykonos, where you can meet any kind of people.
The major attractions of the island are definitely its beaches. The great thing of Mykonos' beaches is that there's something to suite any taste. Those in the South are all equipped with sun loungers and plenty of bar & restaurants, while those to the north are more pristine and natural. You get large and very cool resorts with loud music, along with small and intimate beaches ideal for relaxation and reading.
Kalo Livadi is the largest beach on the island, accessible from Ano Mera, ideal for the whole family. Moreover, you can enjoy the famous Paradise Beach: less than 5 kilometers away from the city, always very crowded and busy. In late afternoon the partying livens up and it is impossible not to be dragged by the rhythm of techno music. Psauros Beach is instead the beach for jet setters. Beach umbrellas and deck chairs must be booked one month in advance. On this beach you will also appreciate the Nammos, a popular restaurant.
The many shopping venues in Mykonos, include expensive boutiques and stylish ateliers, in addition to the many jewelries along Matogianni Street. Those interested in crafts or authentic souvenirs can visit the many shops in the western part of Kalogera Street.
The increase in tourism over the years to this wonderful island, has led many airlines to provide daily flights from the main European capitals, also low cost. The best way to visit Mykonos is to rent a scooter, to move autonomously also to the nearby resorts around Mykonos Town, avoiding expensive taxis or other means of transport.
Photo by Sound80Roma