Summer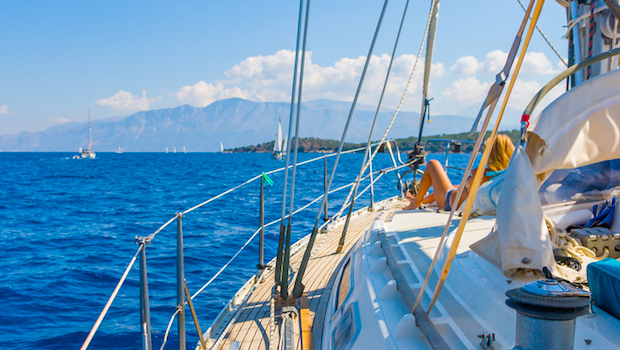 Published on April 20, 2018 | by Andrea Guerriero
0
The Ultimate Getaway – Sailing in the Ionian Sea
You're looking for a holiday like no other. You want adventure, beauty, marvel, and more, but how do you get it? You've backpacked through the countryside, peered off the cliffs of Mohr, explored the beaches of Portugal, but you want something more. How can you find it? Fear not, we've got the destination and adventure, that you're looking for: a sailing holiday through the Ionian Sea. Just imagine it – the wind in your hair, the salt splashing up from the waves, endless islands to explore and discover. It seems like the perfect holiday, right?
If you're a bit unsure about the Ionian Sea and find yourself asking some questions (where is it, exactly? How many islands are there? How could I possible pick amongst the activities I want?), you're in luck. We've got all the information you'll ever need in our Ultimate Getaway guide below.
Tell Me More About the Ionian Islands
Situated in the Ionian Sea and sharing a mainland with Greece, the Ionian Islands are a beautiful collection of islands that enjoy balmy, warm summers and cozy, cold winters, typically following the Mediterranean Climate. The islands themselves are gorgeous. Surrounded by crystal-clear waters, the islands are nestled in picturesque harbors with stunning views, predictable climate, countless bays, and endless adventures. Whether you're looking for a beautiful week of solid sailing or hoping to island hop to explore caves, beaches, towns, and more, the Ionian Islands are the perfect spot to spend your holiday.
But Where To?
With our sailing recommendation comes good and bad news. The good news? There are so many islands to choose from. The bad news? There are so many islands to choose from. What we mean is, with so many possibilities it can be difficult to choose. There's the wildly popular Cyclades (Mykonos and Santorini), the largest Greek island of Crete, and clusters of Ionian and Saronic Gulf Islands, too. Each island has its own unique character, color, and culture, and it can be difficult to pick among them. Thankfully, we've done some of the work for you. Here are a few of our favorite islands to explore, stay on, and adventure.
Lefkada
Dazzling blue waters, steep, white cliffs, and endless culture, Lefkada is considered a must-see and must-visit destination in the Greek Isles. Often called the Caribbean of Greece, Lefkada is known for its beautiful beaches, lush greenery, and unique fish taverns. The landscape surrounding the island is breathtaking and the exotic beaches are to die for. In fact, some of its beaches, like Porto Katsiki, Kathisma, and Egremni are among the most photographed places in Greece. We highly recommend this gorgeous island for your island-hopping sailing trip.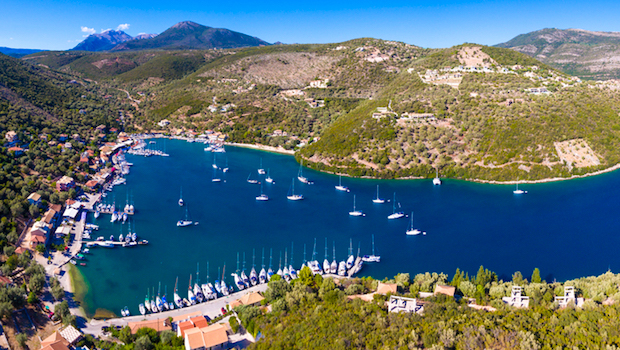 Kefalonia
The largest island in the chain of floating wonderlands, Kefalonia features mystical-sounding features. We're talking wild horses running through the island, underwater lakes, caves, and the staggering Mount Aenos at its very center. Sounds like something out of a fairy tale, right? We agree. Kefalonia also has ancient, beautifully designed churches, like the famous Gerasimos. As far as food, this island is overflowing with fresh seafood (caught that day) and chocolate soufflés. You certainly won't catch us complaining about that menu. This island is perfect for a day-trip to see some of the sights, or a week-long stay on you holiday cruise. Don't' miss out on Kefalonia!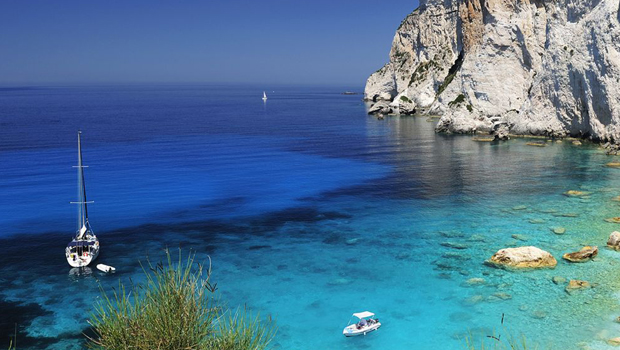 Zakynthos
This island is home to one of the most beautiful beaches on the planet – one you've undoubtedly seen on numerous travel guides, billboards, and all over Instagram. That's right, Zakynthos is home to Shipwreck Beach, and you won't want to miss out on seeing it. Even more exciting? In Zakynthos, you can swim the gorgeous Blue Caves, watch for monk seals, and seek out loggerhead turtles. This island offers those on holiday the perfect combination of natural beauty and culture as it features the Aghios Markos Square, the Museum of Solomos, and Solomos Square. You won't want to skip over Zakynthos on your sailing trip around the isles!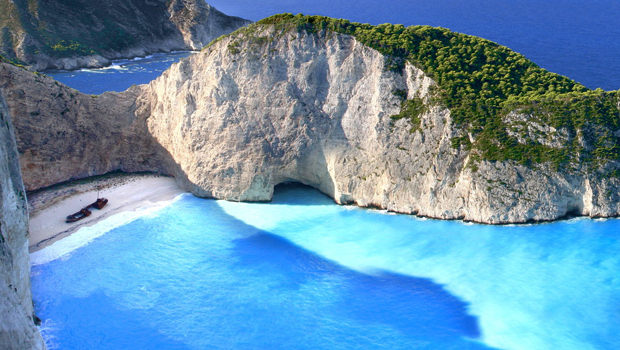 What Kind of Activities Can I Expect?
As different as each island is, there are a few activities you can practically guarantee you'll be participating in on a sailing holiday. Typically, when you're on holiday, you try to jam in as many activities as possible and sometimes find that you're out of adventures before your trip is over. When sailing through the Greek Islands, though, this is hardly ever the case. With hundreds of activities to choose from, you can guarantee that your sailing holiday is going to be not only one for the books, but one that will leave you tired from so much activity!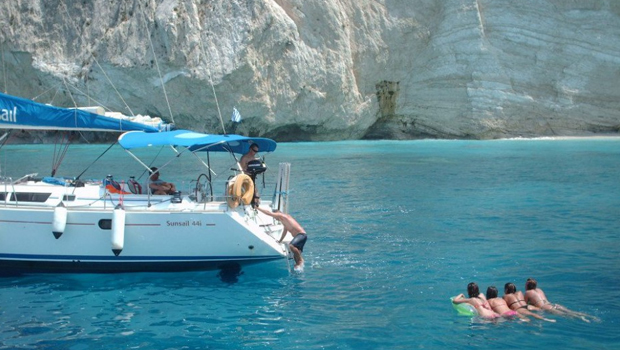 Beaches, Coves, and Sea Caves
Whether it's white sand beaches, dangerously high cliffs, secret coves, or nestled-away sea caves, almost every Greek island will have some sort of tropical form of exploration. As we mentioned before, you can explore the mystic Blue Caves on Zakynthos, but if you want to get a little more cave action in, island hop over to Kefalonia to explore one of the vastest island caves, Dragonata. Other islands, like Meganissi, will have fun caves to explore, too! If it's coves or beaches you're after, you can't go wrong with Skopelos, a natural paradise with white pebble beaches and coves, as well as the Natural Marine Park. The moral of the story? Almost every Greek island will overwhelm you with beautiful beaches and caves and coves to explore.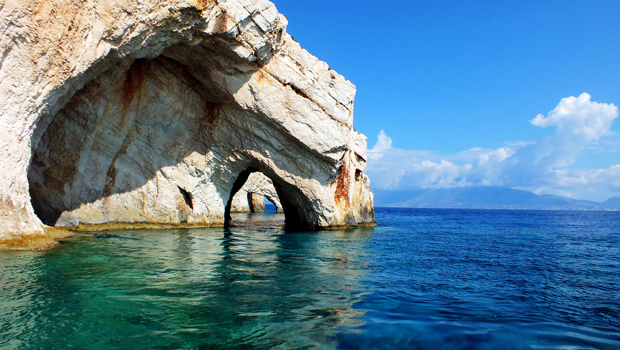 Culture and Cuisine
Even though we mentioned that each island is unique in its own right, you can be assured that each is filled with a loads of culture and cuisine. As far as food goes, it's pretty safe to say that fresh seafood rules the palettes of those on the Greek isles. Can you blame them? They're surrounded by a deliciously fresh supply. While Cretan cuisine is packed with healthy superfoods that are steeped in specialty items (staka cheese spread, anyone?), other islands, like Skiathos, promise delicious delicacies like slow-cooked pork shoulder, prunes, and lobster macaroni. Of course, each island will have their own delicious take on dessert (we can smell the soufflé from here). Naturally, every island is marked by their own beautifully-crafted churches with streets lined with museums, too.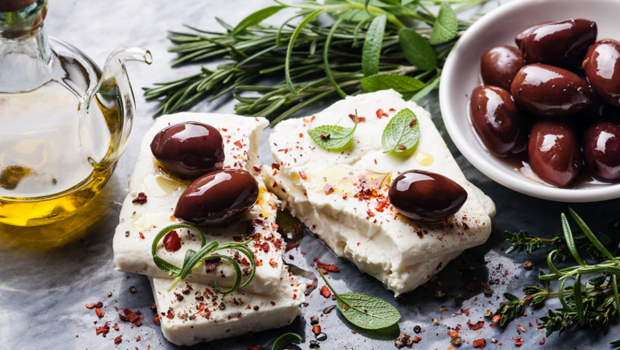 All the Water Sports
You can also expect fun water sports on the Greek Islands. When sailing through the islands, expect to take part in things like deep sea diving, snorkeling, cave-diving, and shipwreck exploring. More than that, though, the Greek islands are the perfect spot for kayaking, water-skiing, paddle boarding, and even wakeboarding. No matter your water sport, the Greek Islands will certainly be able to play ball with you.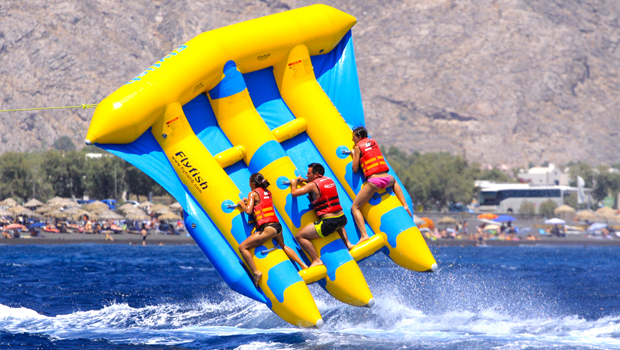 We've Given You the Spots, Now It's Time to Pick
In a way, we've made your job even harder. Sure, we've laid out a few of our favorite, go-to islands, but how are you expected to choose among them? Do you run off to explore the underwater lake and deep caves in Kefalonia? Do you dig into the seafood in Zakynthos? And what about the water sports? You have to try the water sports! Our recommendation? We think you need to extend your holiday, so you can explore all of them! Good luck with your choice. Remember, no matter what islands you choose to hop around on while you sail through the Ionian Sea, appreciate the beauty, immerse yourself in the culture, and respect the landscape. Happy sailing!