France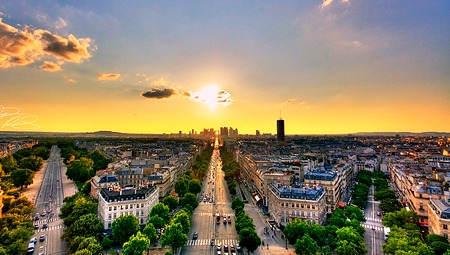 Published on October 10, 2011 | by Andrea Guerriero
0
Suggested itineraries in Paris: Champs-Élysées
There is something special in Paris' atmosphere in autumn. By the beginning of September, something changes, suddenly the air becomes crisp and fresh. The sun still shines in the sky and it's warm enough to be comfortable in summer dresses, but without choking on humidity or sticking to your seat! With great weather, fewer crowds and cheaper airfare to Paris and lower rates to many Paris hotels, this city is definitely worth visiting in autumn, although by October, you'll be glad to have a coat and umbrella with you too!
Now transfer this to the most enchanting avenue in Paris, in France, but what am I saying, in Europe!
The Avenue des Champs-Élysées (literally Elysian Fields Avenue, the name was derived from Greek mythology and was a place of the blessed) is one of the broadest and prestigious avenues in Paris. With its cinemas, cafés and luxury shops, the Champs-Élysées is one of the most famous streets in the world.
This magnificent road, always very lively, extends for a considerable length: in fact, it stretches for something like 3 km from Place de la Concorde to Place Charles de Gaulle, the site of the Arc de Triomphe. Right in the heart of the French capital, the lower part of the Champs-Élysées is bordered by greenery – Marigny Square, Jardins des Champs-Elysées – and beautiful buildings such as the Marigny Theatre and the Palais de la Découverte, but having always been the home of luxury shopping, yet also suggestive walks, if you're on the Champs Elysees Avenue this is mainly what you will be dealing with!
If we go through the history of this road, we notice that it has often taken on different values and styles, for example, in the first half of the twentieth century, the splendor and luxury were the signs that distinguished the Avenue.
Today, the Avenue des Champs Elysees is one of the most contradictory places that you can find throughout the city of Paris. In fact, here you can really find all types of shops: from a very wide range of classy and trendy shops, to small shops within everyone's reach.
Even the meeting points that populate this part of the city are very different: you can choose to make a stopover in one of the cafes, all very posh and expensive, or to stopover at a simple tourist location, quite characteristic.
To reach the heart of the Champs Elysées, simply take the subway and get off at Charles de Gaulle-Etoile stop.
Photo by D_P_R