Europe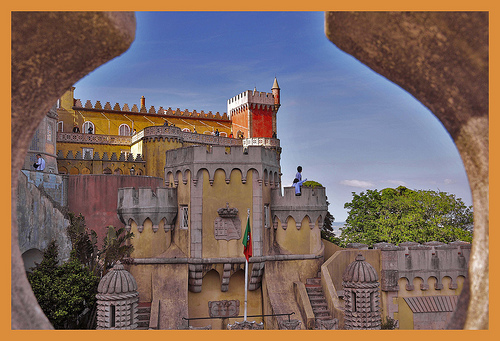 Published on October 21, 2011 | by Andrea Guerriero
1
Sintra – a fairytale in the heart of Portugal
Sintra, a small town in the district of Lisbon – which is only 20 km away- is one of the most beautiful places in Portugal. Sintra is an inexhaustible source of fascination. The perfect symbiosis between the natural and cultural heritage have led UNESCO to declare it, in 1995, a World Heritage Site in the category "Cultural Landscape".
This town hosts many curious and extraordinary palaces, including the three national palaces, Paço Real, in the historical centre, of which its central Gothic core dates from the fourteenth century, Castelos dos Mouros, built by the Arabs in the eighth century, and the curious Palácio da Pena – which stands as if by magic on the Rock of Sintra at an altitude of 450 meters. Do not miss the Palácio da Regaleira (Quinta da Regaleira) designed by the Italian architect Luigi Manini, the exotic Palácio de Monserrate and the neoclassical Palácio de Seteais.
The whole context is surrounded by the impressive Serra de Sintra, with its lush vegetation, where you can take long strolls. Lush vegetation, springs, streams, hills and breathtaking landscapes that allow to admire the immensity of the Atlantic Ocean. The particularly favorable weather conditions have allowed Sintra to become a paradise. Sintra is unique for the richness of its parks and gardens. Particularly relevant is Parque da Pena and the gardens of Monserrate, right in the middle of Sintra Mountains.
Since 1887, the year of inauguration of the railway between Lisbon and Sintra, the city has become a popular summer tourist destination for the Lisbon-bourgeoisie, as well as a spotlight place for scientists, historians and artists from around the world. This phenomenon is still in progress.
The proximity to the sea makes the region a unique destination, with some of the most beautiful Atlantic beaches, among which stands out the Praia Grande and Praia das Maçãs. To reach this beach, from the town you pass through a picturesque stretch on a typical regional tram. Further south, we find Cabo da Roca, the westernmost point of continental Europe, immortalized by the great Portuguese poet Camões, who defined this country a place "where the land ends and sea begins."
Sintra is a place of definite charm that will delight you.
Photo by marek.krzystkiewicz