Top 10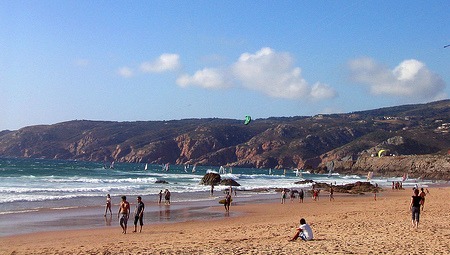 Published on August 15, 2012 | by Elena
1
Must-be beaches in and around Lisbon
Lisbon, the capital of Portugal, is one of the world's most charming tourist destinations. If you are getting to Lisbon in summer time, you will surely enjoy all the sights, culture and history of this fascinating European Capital, and then head towards a beautiful beach break from it all. So here are some tips to help you out with the must-be beaches in and around Lisbon this summer!
Lisbon is located on the estuary of the River Tagus and there are no beaches within walking or cycling distance, but there's a very efficient public transport service, that will take you to all of the beaches that surround the city in a short time, and the journey is also quite inexpensive. Lisbonites are very fond of sea. They go to the beach every chance they get, on holidays or even for a couple of hours after work. They are almost devoted to sea, so much so they even have an Oceanarium and an Oceans Festival!
Most popular beaches in Lisbon
The beaches are situated along the railway line connecting Lisbon with Cascais. This stretch of riverside ending where the river Tagus meets the ocean is also known as the Linha De Cascais. Two of the most popular beaches here are Carcavelos Beach and São Pedro do Estoril.
The former, 15 to 20 minutes away from the Portuguese Capital, is definitely the most famous beach in Lisbon. It boasts a huge fortification called Forte de São Julião da Barra to the east side of beach, used to protect the Tagus' entrance from enemy ships once upon a time. Carcavelos is popular with young locals and tourists alike, and is dotted with beach bars and pubs where loud music continues till very late in the night. So if you're rather looking for less crowded places, then Carcavelos is not for you. But traveling a little farther north to Sao Pedro or Parede Beaches will give you some privacy.
Other Lisbon beaches to suit all tastes
Lisbon has several other fascinating beaches that cater to a variety of individual tastes. You can find a quiet cove, a beach to practice windsurfing, kite boarding or just relaxing under the warm sun. Most of these beaches are clean and hygienic and fly the European Union Blue Flag for excellence.
Praia das Maçãs is popular with families and surfers, and is surrounded by bars and restaurants, and is equipped with many sporting facilities, including tennis courts and football grounds.
If you're looking for paradise, Praia da Ursa may be it: crystal-clear waters, natural beauty, imposing cliffs. Access is extremely difficult here, but this is what makes it one of the most beautiful beaches in the world: unlike many other beaches in the area, Praia da Ursa has retained its pristine, natural beauty.
At the end of the rail line is Cascais, an old fishing village turned into holiday resort with an international marina well worth exploring by foot or bicycle. Here you shouln't miss: Praia Da Rainha, a small beach sitting between rocky cliffs and multi-million dollar mansions, and Praia Da Conceição, a wider strip of golden sand where the famous "paredão" walkway starts.
The Paredão is this long, scenic pedestrian walkway that runs along the seaside from Cascais to São João do Estoril along several other beaches, and is lined with cafes, restaurants and bars, and features public benches, showers and public wc's. During the summer, the beach here is very cosmopolitan and popular with tourists and locals. The walkway is even illuminated at night, so a day at the beach can easily stretch into an evening out.
Photo by torephoto