Europe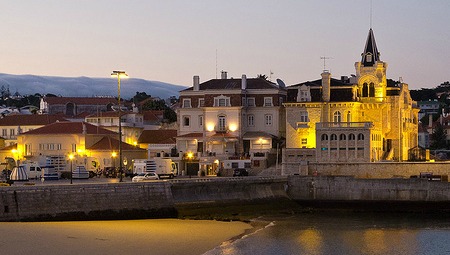 Published on October 3, 2012 | by Daniela
0
Cascais travel guide: all the sights you shouldn't miss out
Once a small fishing village, nowadays a smart resort town, with its breath-taking beaches, impressive museums, and charming markets, Cascais, situated on the north side of the mouth of the River Tagus, is well worth-visiting during your holidays in Portugal.
Cascais is a formerly quaint fishing village located a short train ride from Lisbon's Cais do Sodré station. It was a popular resort favored by European nobility and kings in the early 20th century. Today it's a colorful cosmopolitan town that attracts tourists from all over the world, with elegant pedestrian streets, luxuriant villas, fashionable shops, restaurants and bars, and of course wonderful, pristine beaches.
This cosmopolitan little beach town is a pleasant mix of history, tourism and local life. In the pretty pedestrian streets of the centre, you can find good restaurants, bars, and shops, as well as some historic landmarks such as the Church of Nossa Senhora da Assunção, decorated with paintings by artist Josefa de Obidos dating back to the 17th-century.
Cascais is home to several museums that house many of Portugal's historical artifacts. One of these is the Conde Castro Guimaraes Museum, which allows visitors to experience the domestic ambiance of the aristocracy in the 18th and 19th centuries. Moreover, the Museu do Mar houses a collection of paintings, photographs, and other items that tell the story of the old suburban town.
If you feel like bargain shopping, the Cascais Market (open daily) is the place to go for cheap but fresh fish, fruits, vegetables, cakes, and flowers. The Carcavelos Market, instead, is the place to shop for cheap clothes, bags, and jewelry.
If you wish to stay by the beach in Cascais, the best spot nearby is the magnificent sandy Guincho beach. The water is clean and the Atlantic waves pound onto the sand even on the calmest of days, making it a true paradise for surfers, and all the surrounding coastline is dotted with terrace-restaurants where you will enjoy a variety of seafood.
For a quick meal with a view, a 20-minute walk along the coastal road, halfway between the Cascais Marina and Casa da Guia, you will reach an outstanding sight: Boca do Inferno. Waves crash into gigantic caves carved out of the rock by the sea, causing an awe-inspiring noise that may explain the name given to the site! Here are a few cafés and restaurants and a hotdog stand with stunning ocean views.
The must-stop for an ice cream in Cascais has one name: Santini, offering flavours ranging from raspberry or mango to cinnamon, green tea or ginger. This ice cream parlour has gained popularity thanks to its delicious ice-creams so much so to be considered among the best in the world!
When the night comes, there's plenty to do in Cascais. Most clubs and bars are located around the main square. Two popular venues are Baluarte and Van Gogo, especially popular with youngsters and tourists. Alternatively, you can spend your evening at Tamariz beach club, a nightclub that only opens during the summer, or go for a romantic seaside walk.
As the town is not that big, it is easy to get around on foot. In the old town center, a waterfront boardwalk connects Cascais to Estoril: a stroll between the two towns is recommended!
The Feira de Artesanato do Estoril is a not-to-be-missed event if you're going to Cascais in July or August. This annual event is held in front of the Centro de Congressos do Estoril, where handicraft products from all over Portugal are displayed. You will also enjoy live entertainment and have a taste of various regional dishes.
Photo by Jos Dielis