Italy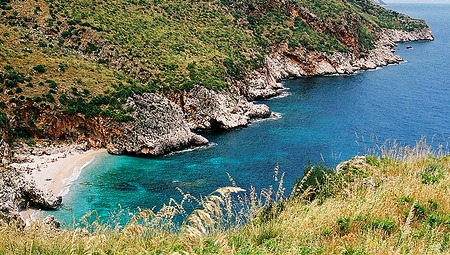 Published on April 26, 2011 | by Andrea Guerriero
0
Protected Beauties in Sicily – The Zingaro Nature Reserve in San Vito Lo Capo
San Vito is a village built around its mother church in the '700. The centerpiece of the country is this church, with a squared ambiance that recalls its birth as a Saracen fortress.
San Vito Lo Capo – in the province of Trapani, near Palermo, where it may be more convenient to land by plane – is a popular seaside resort, especially thanks to its beautiful coastline that opens into a bay, and its beautiful beaches with a crystal clear water twinkling with shades from light to deep blue.
The shoreline of San Vito Lo Capo boasts a long sandy beach that has often been awarded with the 5 Sails, the highest reward given to the Italian coasts by the Blue Guide of Legambiente and the Italian Touring Club. Among the most famous beaches of the town are worthy of note Macari and the creeks of the Zingaro Nature Reserve, which amaze tourists for the turquoise waters and white sand. The town is also famous for the Cous Cous Fest – an international festival of cultural integration that takes place every year in the last week of September – which is the major attraction of the place.
This tourist destination encloses lovely spots that surely worth a visit between a relaxing bath and a delightful dish of fresh fish to be enjoyed at one of the many excellent restaurants in the area.
Before reaching San Vito, on the left you can see one of the watch towers – dating back to 1500, and the chapel of St. Crescentia (XVI sec.) – with its typical cubic shape. Worthy of note is also the Tonnara del Secco, an ancient tuna fishery now in disuse; and then, at the end of the road, lies the beautiful Zingaro Reserve.
Founded in 1981, the Zingaro is the oldest Nature Reserve in Sicily, extending for 1,600 hectares along the seaboard from Scopello to San Vito Lo Capo. In the seven miles of coast – saved from speculation and from the construction of the panoramic road that here was to be built in the early 80's – nature, history and traditions come together, offering a truly unique setting.
The Zingaro is so fascinating for its rugged beauty, for the colors of the seashore – white bays and turquoise waters – attracting visitors to discover the pristine nature and the prehistoric archaeological sites, where the traces of interaction between man and nature, past and present, are more evident than ever.
You can access the reserve from two entrances, one on the side of Scopello, and one from San Vito Lo Capo; you can park your car or bike and walk inside, following the trails. Regulation and maps of the Reserve can be picked at the tour desks available at the two entrances.
If you are looking for a summer holiday of sun and relaxation, San Vito Lo Capo carries all the charm of a voyage of leisure, adventure and peace.
Photo by ausberlin