Hotels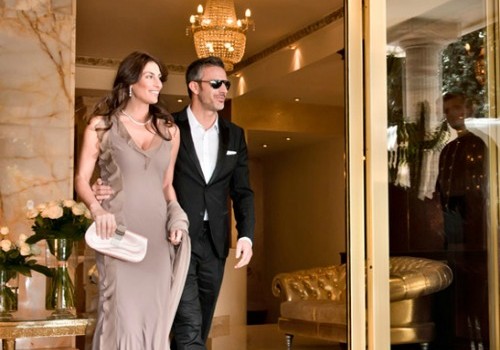 Published on June 7, 2013 | by Daniela
0
Grand Hotel Imperiale: the best hotel in Forte dei Marmi
Imagine a summer afternoon, walking a little bored on the beach of Grand Hotel Imperiale in ​​Forte dei Marmi with a cocktail in your hand. Strangely, you have no ideas for the evening, but there's a party in Rimini. Not a problem.
The concierge service of Grand Hotel Imperiale in ​​Forte dei Marmi provides private jets and helicopters taking off from the nearby Cinquale tourist airport. But you would either opt for an unpredicted party on a yacht! It is always the concierge that will help you book the luxury vessel you need. If you wish to pick up your guests in a limo, flagships and supercars are available too. Well, you're in luck. You are in a luxury hotel that is very keen to meet the lavish needs of its guests.
It's quite easy to feel lucky at the 5 stars L Grand Hotel Imperiale. There are always reasons for feeling gratified here. The hotel stands in the heart of Forte dei Marmi, in the middle of a pedestrian area (accessible by the hotel's private shuttle) dotted with luxury shops, including Armani and D&G showrooms, located some 100 mt away.
The private beach is about 200 meters away instead, at the "Minerva Beach" bathing station. This is a corner of paradise with forty tents all separated from one another, complete with sun-beds, deckchairs, table and locker for your towels and bathrobes. The facility also features techno-gym equipment and a restaurant with buffet and à la carte menus based on fish dishes, as well as a pizzeria with wood-fired oven.
The lucky guests of Grand Hotel Imperiale have as many as three restaurants at their disposal. Ristorante Olivo d'Oro serves fine cuisine and gourmet dishes; the aforementioned Beach Restaurant specializes in fish menus, and the Garden Restaurant caters for light and quick meals instead. The latter of course welcomes guests in the hotel garden with pergola and tables placed between rows.
Customers are lucky also because they sleep in a newly built property. This means that the refine environments where they stay are also functional and equipped with modern technologies. The rooms are furnished with new furniture but very classic, dominated by soft colors and pastel shades, embellished with chairs and pillows, the marble bathrooms come with intriguing courtesy kits, and there is no lack of the most modern amenities such as Wi-Fi and broadband Internet connection, satellite LCD 40 " TV, telephone / fax, and of course safe and mini bar.
Grand Hotel Imperiale also features a spa which is an actual wellness center. Guests can use the swimming pool or keep fit with the techno-gym equipment available in the fitness room, but they can also be pampered with beauty treatments – also with multiple-day packages – for a complete body & mind regeneration. There are multi-sensory tubs with aroma therapy, pleasant detoxifying treatments based on oriental spices, Egyptian beauty treatments with myrrh and incense. Also, body massage with Yemeni herbs and baths with salt flowers from Trapani, or Lipari pumice stone.
Al the treatments and services available at the Welness & Spa center are performed by a professional staff and therapists in collaboration with the Medical Department of the hotel. The team of experts will test visitors with determination of your lipid profile, find out any food intolerances or profile stress levels, and then define specific activity programs for each customer.
Honestly, Grand Hotel Imperiale ​​Forte dei Marmi, luxury 5-star hotel, is a hotel for everyone. Sure, you must be able to afford the payment of more than 700 Euros per night for a room, but you can't quibble about everything. So also families with children are welcomed here. The concierge service of the Grand Hotel Imperiale offers babysitting service, a spot dedicated exclusively to children and their fun, and during the summer, daytime and evening entertainment with "Mondo Bambino" at the bathing establishments Minerva Beach.
And, Grand Hotel Imperiale is suitable for business travelers, too, who get work desks and free internet in both public areas and rooms, multilingual staff 24-hour a day, and quiet rooms for business meetings. These include the lovely Eagle Meeting Room, very elegant, with natural light, screen, projector and the possibility to be set up in different ways. For larger numbers of people, between the beach and the sea at Minerva Beach establishment, there is a spacious hall for meetings and conferences.