Hotels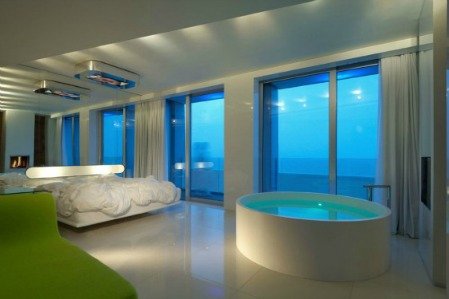 Published on May 17, 2013 | by Daniela
0
I-Suite Hotel, the best hotel in Rimini
Try to imagine entering a place wrapped in a refined modern design, rooms with large windows overlooking the sea, a panoramic spa area on the top floor, an outdoor swimming pool- sculpture with water at 32 °C, and delicious dining on the rhythm of the seasons with Km 0-foods made with local, low impact primary ingredients.





Just imagine being greeted in a totally informal setting, no reception desk and check-in and check-out procedures carried out seated on comfortable armchairs. Not enough? Then try to imagine that you are lying in bed in the room watching 32-inch Internet-connected TV… placed on the ceiling. Or watching the news on TV while you're taking a shower. Imagine that it was useless to take your laptop because there's a computer available in your hotel room, or that it's not a problem if you've forgot your mobile phone, Smartphone or iPod, as you can borrow one at the hotel during your stay.

So you don't believe your eyes and check on the Internet the reviews from guests who stayed at i-Suite. At this point try not to believe what you read, and so read and read hundreds of reviews to find a 'fault'. And you don't find it.

Mandy, Usa, here is what she says: "This hotel was amazing! The modern architecture was so cool! The pool was beautiful & refreshing! The staff was very friendly & helpful! Our room was upgraded since we were on our honeymoon… Very nice room with a view of the beach! Everything about this hotel is perfect….I Can't wait to go back! We didn't want to leave the I-suite Hotel!! "

And here is Kelly: "Staff very friendly and accomodating, fluent in English; in-room dining of 5-star restaurant caliber; outdoor pool a-w-e-s-o-m-e; location superb, right across from beaches (sound proofed rooms allow for peace and quiet after retiring for the evening); most importantly nearby to many, many gellaterias…definately try the coconut…will absolutely stay at i-suites again when I go return to the south of Italy.

"
Do you want to go into details? Go ahead.
The i-Suite Hotel is a 5 star hotel in Rimini located in Viale Regina Elena, one of the avenues on Rimini's seafront, in the most glamorous area of city, Marina Centro. The ultra-modern i-Suite was designed by architects of the likes of Simone Micheli and Giovanni Quadrelli, actual design artists that have shaped the most refined 'all-suite design hotel' on the Riviera Romagnola.
As they say on their website, at i-Suite Hotel "We wanted to create a resort where you can feel free, and enter a new dimension, something special, a boutique hotel. I-Suite is a marvelous place where we pay tribute to real relationships, and where you become a unique part of our story "There are no rooms at Rimini's I-Suite Hotel, only suites, "havens where to take refuge".
The Puro Junior Suite is suitable for families. It features a 37" digital TV with Sky channels, multimedia system that turns the TV into a PC monitor, bathroom with bath or shower and 17″ TV.
The Life Suite, 37 square meters, has the bed placed near the window overlooking the sea, and is equipped with large sofas, sleeping area with 32″ monitor on the ceiling, living area with TV and multimedia system.
The Dolce Vista Suite, overlooking the beach and the sea, has a double balcony and is intended for couples in search of a sweet nest, with chromo-therapy bathtub in Corian placed at the center of the room and facing the sea, and business travelers alike, as it features an office area, large work desk and space for business meetings.
Finally, the Penthouse Suite, a ​​65 square meters area of pure design, the epitome of the best features and refinements of all the other Suite: sea view, balconies, fireplace, computer and media center, panoramic bath, LCD-TV on the ceiling, in the bathroom and in the living room, minibar, safe and, of course, courtesy kit – but you can choose your favorite scent.
On the sixth and last floor of Rimini i-Suite Hotel there's a panoramic Spa, called i-Feel Good Spa. This wellness center lacks nothing for guests to relax, includes 50 °C Bio sauna and 90 °C Finnish sauna both with sea view, Turkish bath and thalasso bathtub with Cervia's Salt, 30 square meters hydro-massage infinity pool, sun loungers with effervescent air and water blades, sensory shower paths, an ice room and three cabins with beauty treatments and massages available.
Six floors below, guests can immerse themselves in the I-Ce Age Pool, an outdoor swimming pool with a sinuous design with heated water at 32 °C. The pool looks like a large white sculpture and offers a secure and gradual passage to adaptable temperatures: ideal for bathing even in the winter months. Of course, the pool also features hydro-massage areas with intimate spaces for couples who want to relax watching the starry sky. An elevator connects the spa to the pool.
On the same floor of the swimming pool are also the i-Bar and the restaurant i-Fame. The former is a cozy and intimate place where to sip drinks or enjoy an aperitif. The i-Fame restaurant is one of the flagships of Romagna's traditional cuisine, where strictly seasonal products of the hinterland are used to prepare traditional dishes. Chef Daniele Succi, from Rimini, personally selects the meats, vegetables, and fish, helped by his talented staff and through innovative manufacturing techniques he serves his dishes in an original way. The flavors are those of the Romagna Riviera, of the Adriatic Sea, the countryside behind the big tourist district, hand made pasta and bread. Not to mention the tasty vegetarian dishes.
After all this, what else to say about Rimini i-Suite Hotel? That price is in line with the services provided and the quality of pampering, that the professionalism of the staff is emphasized in all the comments written by guests, that the wonder and amazement that capture customers when they cross the threshold of the hotel should be photographed and framed.
If you happen to visit Rimini and wish to indulge in something extraordinary, we are sure that you will not regret booking the i-Suite Hotel.