Food & Wine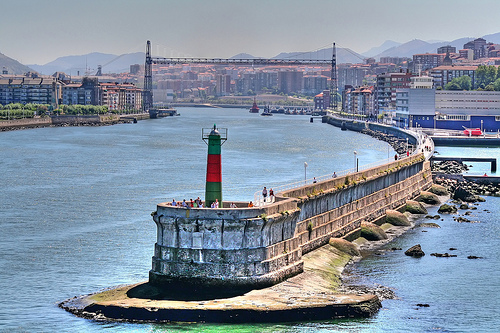 Published on August 5, 2011 | by Andrea Guerriero
0
Enjoy the dreamy and artistic cuisine of Bilbao
Bilbao is a beautiful city of the Basque region, one of the wealthiest and most industrialized areas in Spain, and is famous for the kindness of its people – proud of their ancient traditions, for the beauty of its old town and its world-renowned and acclaimed gastronomy.
In this growing city of one million people, you can enjoy breathtaking attractions, you can stroll along walkways that parallel the river, enjoy shopping on the Gran Vìa or explore the Old Town, where you can admire Gothic churches, beautiful plazas, and some of Spain's most popular night life venues and finest restaurants.
In general, the Basque cuisine is very good and of course Bilbao is the perfect place where to taste these specialties. Meat and fish are the main ingredients of this cuisine, a perfect blend of sea and land. Bilbao will make you feel special with its five-star cuisine, which can first of all be enjoyed in unique and iconic spots, as famous museums and their surroundings.
As it happens at the restaurant inside the Guggenheim Museum, where you can enjoy culinary art with refined dishes, presented in an innovative and… creative way, according to the style of the museum. Another interesting option is the restaurant of the Euskalduna Palace. It is located on the superior floor and has a covered terrace with a nice view of modern Bilbao. Its menu is a good example of haute cuisine that combines tradition and creativity obtaining successful results.
Very close by, there is another restaurant in a museum, the Museum of Fine Arts. Here you can enjoy an appealing, minimalist cuisine while you admire the most beautiful views of Bilbao.
However, everywhere in Bilbao it is a pleasure to eat out, and you will find restaurants of all types.
Not only "auteur" restaurants, but also local cuisine is very famous and appreciated in Bilbao. Sit in a traditional restaurant and try the various pintxos or the local tapas, great start to a memorable evening in this beautiful city.
Among the most prestigious restaurants offering Basque cuisine, you should try La Pergola, which serves traditional Basque dishes with a bit of a modern flair. This restaurant is popular with Bilbao's business clientele, especially at lunch time.
Moreover, Casa Víctor Montés is a popular weekend dining destination for locals but also tourists appreciate it, of course. This traditional Basque restaurant serves specialties of meat and fish dishes made from the finest ingredients.
Finally, worth a mention also Begoña Restaurant – located in the historic backdrop of Bilbao's Basílica de Begoña – and El Perro Chico – nestled in one of Bilbao's residential areas and boasting great views of the river and Casco Viejo, the historical centre.
If you find yourself spending a pleasant holiday in Bilbao, be sure to delight also your palates, you will never regret!
Photo by redeye^