Europe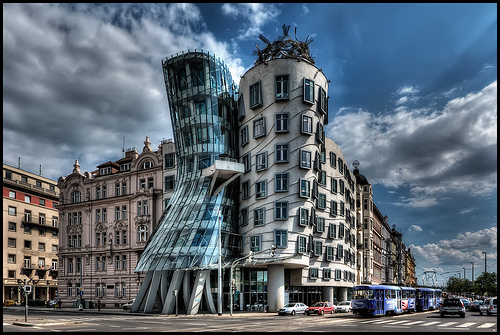 Published on November 24, 2011 | by Daniela
0
Architectural Works of Art in Europe: on the trail of Frank Gehry
A trip may not always be undertaken to discover beautiful and unknown places. Sometimes it could be all about great passions, for example for architecture, lakes, animals, for a particular artist, etc. then you decide to make a series of journeys, not just one, on the trail of what attracts you most, in order to see things in person and enrich yourself with new experiences in a fun and dynamic way: traveling. During my travels, I happened to run across a couple of spectacular buildings which I've discovered to have been designed by the same, extravagant architect, or perhaps it is better to define him as an artist. This is Frank Owen Gehry, born in Toronto in 1929, and still in fervent activity!
I was so fascinated by this artist that I started to seek more information about him, discovering that his works dot the world, taking the shape of museums, hospitals, hotels, palaces and banks, maintaining the same "Deconstructed Aesthetic" style and punctually becoming major landmarks in the cities where they are.
So I found out that over the years, Gehry has moved away from a conventional commercial practice to a artistically directed atelier. His deconstructed architectural style began to emerge in the late 1970s when Gehry, directed by a personal vision of architecture, started creating collage-like compositions out of found materials.
Instead of creating buildings, Gehry creates ad-hoc pieces of functional sculpture.
Here are some of his most valuable works in Europe.
Dancing House – Prague
First stop: Prague, Czech Republic. Actually the Tančící dům was designed by architect Vlado Milunić and Gehry was a "mere" co-operator, but this amazing office building in downtown Prague is definitely worth to be mentioned among one of Gehry's masterpieces. The house vaguely resembles a pair of dancers, thus it was originally called Fred and Ginger (after Fred Astaire and Ginger Rogers,) and stands out among the Neo-Baroque, Neo-Gothic and Art Nouveau buildings for which Prague is famous.
DZ Bank Building – Berlin
The exterior of the Berlin headquarters of DG Bank, is dressed in a yellow Italian limestone that matches the nearby Brandenburg Gate, and features deeply recessed windows. The outside may be nothing special, but as soon as you get in, you'll find a large atrium covered with a sophisticated glass-grid roof, curved in a complex form typical of Gehry's designs. Completed in June 1999, DZ Bank is a 20,000-square-meter multi-use center and its atrium is designed to be used as a conference or performance space.
Gehry Tower – Hanover
This nine-storey building in Hanover, Germany, has a twisting shape and is made of stainless steel leaning and twisting around a ferroconcrete core. It was commissioned by the government operator of public transport in Hanover, for whom Gehry also designed a bus stop in the city. Like many of Gehry's buildings, the tower was created with the most modern technology available at the time – construction began in 1999, and the building was officially opened in 2001.
Guggenheim Museum – Bilbao
Well, on my Bilbao trip, this was exactly my thought after visiting Prague: he designed the Guggenheim Museum too? Completed in 1997, the Guggenheim is a world-renowned building that, besides making Bilbao famous worldwide, has also changed the way the world thinks about museums, for the inventiveness and exploitation of the latest technology by which it has been made, and its amazing way of providing connections between art, architecture, and collecting.
So many other works around the world make Mr. Frank Gehry the special man he is, so we just would want to thank him for being one of the "unexpired fathers of inspiring architecture."
Photo by szeke