Spain
Published on October 15, 2014 | by Marta Lopez
0
Delights of Madrid – Discover the Spanish vegan revolution
Being a vegan and visiting Madrid doesn't really go together. However times are changing for the Spanish capital and today it's less hard to find places where to enjoy modern and eco dishes as well as a full menu of organic beers and wines. This article leaves the taverns where serrano ham is served and invites you to explore the healthy food revolution in the Iberian land. Because World Vegan Day is not too far on the calendar, here you have some of the most tempting eco-friendly restaurants in Madrid.
Al Natural: A vegetarian institution since 1994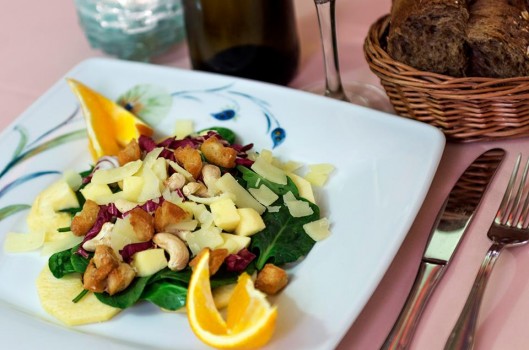 Based in an amazing location very close to the Paseo del Prado, Al Natural opened its doors in 1994 and this year it celebrates its 20th anniversary. This place follows an easy concept: health food for healthy people. What started being a traditional healthy cuisine restaurant, has turned into a place where the experimentation seems to be the key to its success. In this sense, diners can find here top dishes that come with berries from the Tibet, Andine quinoas and, of course, lots of ginger. According to its founder, Jorge Acero, "Al Natural works with fresh groceries from small producers that always have a keen eye for detail". But not everything finds its origin within the country; there is something very good that comes from Germany and that is ecological beer, of course.
Where to find it: Calle de Zorrilla, 11
La Cocina de la Mojigata: Healthy home-made catering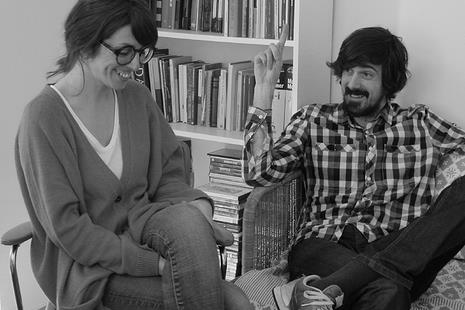 Once upon a time there was a place called La Mojigata in the heart of Huertas where it was easy to transport yourself into a healthy galaxy thanks to a full menu of organic milkshakes and gluten-free muffins. After some time its founders, Natalia and Fernando, decided to take their green idea to another level. They closed the cafe and started a home-made catering service called "casering" (casa=home + -ing) which has gained a wonderful reputation as Mojigatas's kitchen. According to them, La Cocina de la Mojigata wants to rescue the old times, when people used to spend time on cooking and baking at home. Whoever orders food online will have the chance to taste the flavour of a home-made butter, artisan bread and eco-jams. Natalia and Fernando's last tip is to make sure you serve your menu in the best simple and recycle possible way.
Viva la vida: A very special green buffet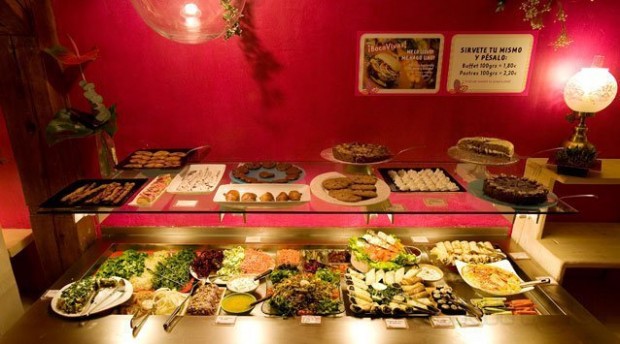 It´s one of those places that you don't mind visiting even if you love meat as much as your life. At Viva la Vida rules are easy to follow: The price is by weight. Once you get a voucher you only need to consume 500 grams of food. The buffet here is endless, offering from salted vegetables until a vast menu of elaborated green dishes such as lasagne with aubergine, rice with salted Portobello mushrooms, sushi and falafel balls. When it comes to choosing the dessert, Viva la Vida will make it easy for you. Top tip: Be careful as it's hard to resist piling the plate high with so many delicious things around you.
Where to find it: Plaza de la Paja, Costanilla San Andrés, 16
 Rayen Vegano: A very chic paradise for vegans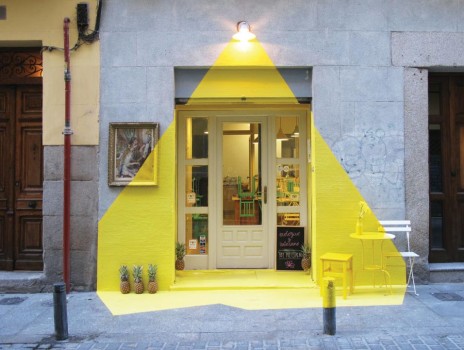 It is based at El Barrio de las Letras ("The Words' Quarter") and here it's almost impossible to book a table. Rayén Vegano is a paradise for vegan people and probably one of the most vegan pioneer places in town- its yellow entrance is one of the reasons why this place won't remain you indifferent. Those who have visited this eco temple recommend the seitan (wheat gluten) which comes with mustard and salted vegetables. Top tip: if you are not entirely sure about what you have in front of your eyes, don't hesitate to ask the staff for a proper description; they will be more than happy to help you!
Where to find it: Calle Lope de Vega, 7
Abonavida: An organic café in Puerta del Sol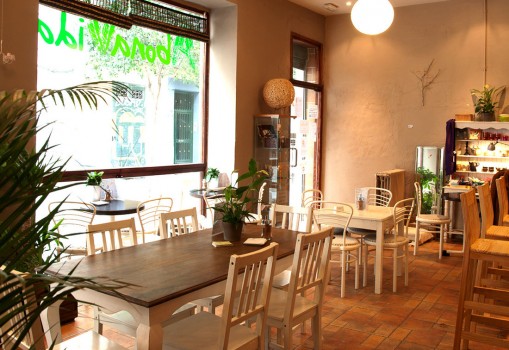 In the heart of the trendy Chueca area, this organic cafe-restaurant invites travellers to leave tapas aside and try some vegan seasonal specialities such as "Zensational", "A walk in the woods" and "Life is what you make of it". Abonavida is more than just a vegan paradise, it´s also a meeting point for local vegans and for anyone interested in ecological farming talks, vegetarian food tastings and cultural events. If you ever visit Madrid, don´t hesitate to pop in; they promise to give you a warm welcome.
Where to find it: Calle Navas de Tolosa, 3
Yerbabuena: Vegan creative cuisine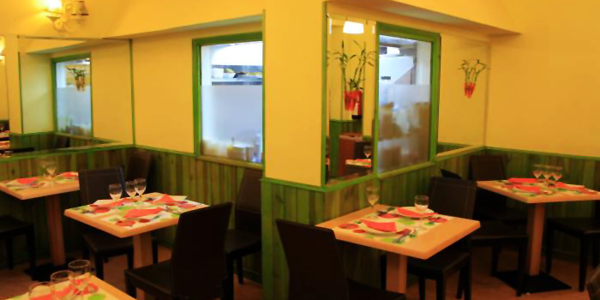 Its décor already invites travellers to feel the green energy behind this place. Yerbabuena is my last recommendation for those looking for green delicatessen across the Spanish capital. The menu offers a wide variety of dishes like soya burgers, seitan stuffed vegetables and tofu steaks among others. The good thing about Yerbabuena's menu, apart from its creativity, is the fact that it changes weekly.
Where to find it: Calle de Bordadores, 3
---
Additional Information
How to get there: Barajas airport is 24 hour connected with a bus service. However, the easiest option is to grab the metro (line 8) to the centre of the city. And don't forget to visit the official underground website.
Where to stay: Avoid the centre of the city and find a hotel near Lavapiés, a very trendy area with a great nightlife atmosphere, or try for  lowcost districts in Madrid.