Spain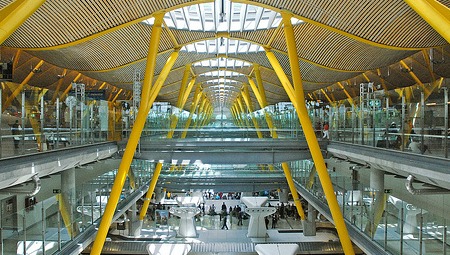 Published on March 19, 2012 | by Daniela
0
Airports around Europe: Madrid-Barajas Airport
Madrid is the capital city as well as the largest city of Spain. With its 6 million inhabitants, Madrid is celebrated as Europe's liveliest city, boasting the presence of outstanding landmarks – from Plaza de Espana, and Puerta del Sol up to the Bernabeu stadium – dozens of museums and plenty of things to do at any time of the day, and night!
The location of the capital is a prime reason why it is a worthy place to visit, as it stands in the center of the Iberian Peninsula. It's no surprise, then, that the major airport in Spain, is the Madrid-Barajas Airport.
The international Madrid-Barajas Airport (airport code MAD) opened its services in 1928, growing up to become the busiest and largest in the country. The airport is operated by Aena Aeropuertos and has a total of 4 Terminals, with Terminals 1, 2 and 3 serving Spanair and Air Europa and other airline members allied to Star Alliance and Skyteam, and Terminal 4 servicing Iberia Airlines and international carriers including, among others, American Airlines, LAN Airlines, British Airways.
Madrid-Barajas Airport derives its name from the adjacent town of Barajas, and is located around 13 km northeast of central Madrid, and about 9 km from the financial district.
To reach Madrid, passengers without a car can take pink Metro Line 8, departing from Terminals 2 and 4, which leads to the city centre.
How to reach the airport and Madrid city centre
But there are several transport options for getting to and from the airport.
In 25-35 minutes you can drive from central Madrid to Barajas Airport taking the M-14 to the M-13, then the M-12 to get to Terminal 4, or take the A-2, then the M-14 to Terminals 1, 2 and 3.
By train, Metro Line 9 runs between Nuevos Ministerios station and the airport in 25 minutes. Aeropuerto T1-T2-T3 station, located at Terminal 2, serves Terminals 1, 2 and 3; Aeropuerto T4 station serves Terminal 4.
Madrid EMT buses run between Avenida de América and Barajas Airport. Line 200 serves Terminals 1, 2 and 3, line 204 is for Terminal 4.
Facilities
Madrid-Barajas Airport boasts a great number of facilities and amenities to suit passengers' needs. You will find a 24-hour operating bank at each terminal and wireless Internet access covers many areas of all four terminals. The airport has a chapel and a playground, and you can enjoy your free time at more than 30 bars, cafes and restaurants, and more than 100 shops. Terminal 2 features some meeting rooms, while nurseries and first aid stops are available at Terminals 2 and 4, and luggage storage lockers and pharmacies at 1, 2 and 4. The airport is totally wheelchair friendly and wheelchairs can be provided by airlines upon request.
Parking
P1 is a large open air parking area located opposite Terminal 1.
P2 is a seven floor parking garage which serves Terminals 2 and 3. Access to the terminals is from the central walkway on level one.
P4 is a large five level parking garage located opposite Terminal 4.
If you are staying longer than 30 minutes it is cheaper to use either P1 or P2 facilities. The cheapest parking option for longer periods is the Long Stay car park, which is located a short distance from the terminals and can be reached by free shuttle bus.
All four terminals at Madrid Barajas have VIP parking, and reserved car parking spaces are available also for the disabled.
Photo by dalbera