Food & Wine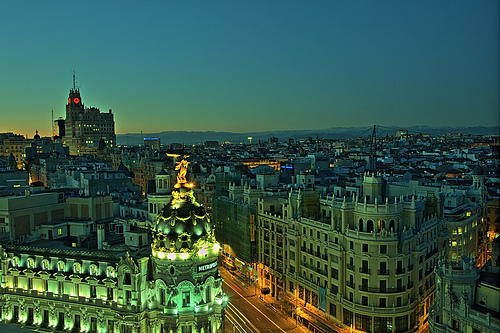 Published on December 28, 2011 | by Daniela
0
Traditional NYE in Madrid, recipe
Are you going to spend New Year's Eve in Madrid? Here is a recipe for the traditional NYE Madrid cake: your best party night ever. Follow our instructions to make it the ideal consistency you need: you'll certainly have lots of fun.
NYE Madrid cake Ingredients:
1-to-N good friends or family members;
12 grapes;
1 bottle of Cava (Spanish champagne);
1 cup of hot chocolate + 1 or 2 pastries;
NYE Madrid cake Equipment:
1 warm, elegant, comfortable dress;
new, red underwear;
1 good restaurant
Step 1: Dressing
In a medium-sized hotel room in Madrid, combine your garments and get ready for your night out. You can bring them from home or buy them last-minute at one of the several shops that stay open until late in the city. Spanish tradition says that wearing new, red underwear on New Year's Eve brings good luck, so don't forget it.
Step 2: Prepare the fun mix
Just stir in your friends and/or family members, and they will mix on their own.
Step 3: Stuffing
Drop the mixture into a great "stuffing facility" and have a Spanish-style late dinner in a nice restaurant, preferably near the centre of Madrid. Meanwhile, ask the waiter to keep chilled for you the bottle of Cava you have brought along with you from the hotel.
Many places in Madrid have private parties on NYE, so you'll be spoiled for choice. Try and finish around 11.15 – 11.30. Head as near to the Puerta del Sol as you can. You need to bring the Cava* and the twelve grapes: the bars and restaurants often provide free grapes themselves, about quarter to midnight.
* Note that to keep things under control, the local police confiscate glass bottles from anyone wishing to enter the Puerta del Sol on New Year's Eve.
Step 4: Setting the timer
The Puerta del Sol is the place all Spanish eyes naturally turn to for New Year's Eve in Madrid. The actual countdown is primarily followed from the clock on top of the Casa de Correos building in Puerta del Sol square. The New Year is traditionally rung in with the 12 chimes of the clock. The event is broadcast on television to millions of people all across Spain who follow along watching the fireworks and… eating their 12 grapes.
Indeed, according to Spanish tradition, you will have abundant good luck in the new year if you eat one grape for each of the twelve chimes (doce campanadas) counting down to midnight on New Year's Eve**. Some people also put their right foot forward as they eat the grapes for added luck in the year to come. Some even suggest that it's bad luck not to try.
Wash down the grapes with the bottle of cava: sharing will enhance your outcome.
**Don't underestimate this accomplishment: managing to eat them all on time could be quite difficult, but that doesn't stop millions of Spaniards every year from trying.
Step 5: Baking
Don't be alarmed if the bars are closed – Spanish waiters and bar staff have the chance to celebrate with their families too. They will open at least by 1 am! Choose one of the many New Year's parties at pubs, discothèques and similar places around Madrid and… bake for about 5 to 6 hours: enjoy your night until the next morning.
Keep on washing down with Cava, while dancing and listening to music, enthusiastically greeting the New Year.
Step 6: Topping
Early next morning, party attendees usually gather to have the traditional winter breakfast drinking hot chocolate and eating fried pastry. This, besides warming the heart, keeps the spirit away from the cold of winter.
NYE in Madrid will be an unforgettable night of excitement and delight. The charming, thrilling and dreamy atmosphere of this city will make your New Year's Eve in Madrid, a truly unique experience, and you yourself will be the icing on your cake.
Photo by felipe_gabaldon