City Breaks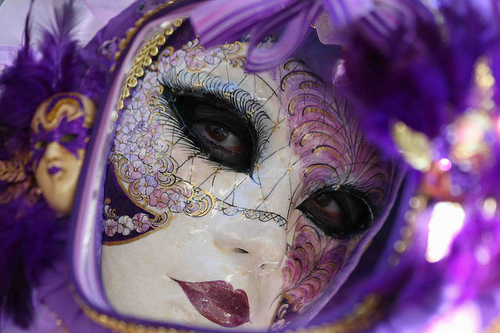 Published on January 23, 2012 | by Daniela
1
Carnival of Venice: masks, costumes and plenty of fun
Carnevale, aka Carnival, is celebrated in many places around the world, 40 days before Easter, a final party before Ash Wednesday and the restrictions of Lent. Throughout Italy, Carnevale is a huge winter festival celebrated with parades, masquerade balls, music, and parties. But Venice's Carnevale, is definitely one of the most exciting things you may ever experience in your life!
Although Carnival is actually one date (this year is February 19), in Venice –  considered the Italian Capital of Carnevale, preceding even Viareggio, Tuscany, and Acireale, Sicily – celebrations and parties may begin a couple weeks before.
This year 2012, Venice's Carnival celebrations will start on February 4th – with the Grand Brindisi by the Wine Fountain, which opens the Carnival with a Grand Toast, masks, costumes and dances – and last until February 21st, the day of Mardi Gras, during which the party will reach the climax, to end with the Vogata del Silenzio (Stroke of Silence), when the Grand Canal will be lit up with hundreds of candles, while the Gondolas move from Rialto to St. Mark Square to wave Carnival goodbye.
But let's go with order, because between these two dates, there will be plenty of entertainment for everyone!
A not-to-be-missed event, for example, is the traditional Flight of the Angel, scheduled for Sunday, February 12, where a secret guest will fall along a rope from San Marco bell tower, down to the the middle of the square. On February 19, instead, there will be the Flight of the Donkey, a parody of that of the Angel.
Don't miss the "Hot Choccolate" events at Gran Café Lavena on Feb 11th, 12th and 19th. This is a typical Venetian tradition since the 18th century that you can experience in a wonderful atmosphere where all the guests are in costume. Enjoy hot chocolate, drinks and pastries in one of Italy's historical venues. (price 50€ p.p.)
Hotel Danieli, a masterfully restored palace reflecting the splendor and romance of Venice, just steps away from Piazza San Marco, will entertain with lunches, gala dinners and dancing evenings throughout the Carnival weeks. In particular, try and enjoy the "Cotillion" afternoons (Feb 13, 15, 18, 20) where a Master of Dance will teach guests the basic steps of this graceful and ceremonious period dance. (price 100€ p.p.)
And then concerts, Gondola tours, grand balls and so on, all to be totally involved in the romantic, cheerful atmosphere of this wonderful city. Italy's city of love. By the way, don't forget Valentine's day on Feb 14th! You can celebrate in advance (Feb 12th) at Palazzo Pesaro Papafava, with a San Valentino Grand Ball, in costume and mask, of course. (price 275€ p.p.) [ :/ ]
2 important elements of the Carnival of Venice are masks (maschere) and costumes. The event attracts visitors from around the world, and those who do not wear costumes and masks are sometimes subjected to teasing by gangs of young Venetian boys. So if you don't have one, buy it or you can also hire one on the spot. Just leave everything else behind and enjoy this cheerful party, there's always time to get back to our routine…
Photo by Alaskan Dude