Festival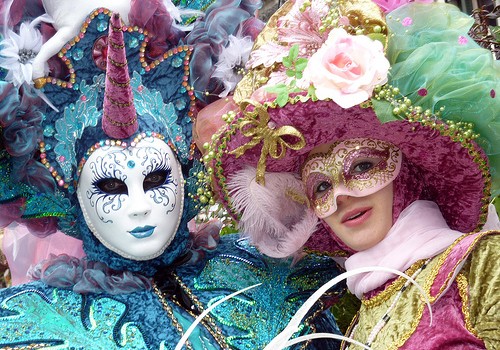 Published on February 1, 2011 | by Francy
0
Carnival in Venice can be low cost!
As every year, when it comes to Carnival time, Venice is teeming with activities, events and parties. In the days of the Carnival, staying on the islands of the lagoon is never cheap, but there are many alternatives.

For example, you can stay out of town, near Mestre and Marghera, or more to the west along the banks of the Brenta River in Mira and Dolo (well connected, however, with the station of Santa Lucia in Venice), or further east, in Jesolo Lido, where there are several inns and hotels, and where ferries depart from Punta Sabbioni to Venice Lido.
In the city, 'low cost' entertainment is ensured by the full program of events organized by the municipality, which every year identifies a theme that becomes the leitmotif for the cultural activities and parties. The heart of the festival is of course St. Mark's Square, where a great stage is set up for the events, but in the whole city it is possible to attend free performances.
This year's theme is 'The Nineteenth Century', in honor of the 150th anniversary of the Unification of Italy. Therefore, all the events are focused on the Romantic period and the Risorgimento, with costumes of the Unity Committees, the Kingdom of Italy and Austrian uniforms, ladies in corsets and crinolines and gentlemen in frock coats and top hat.
Among the free events organized by the city, worth a mention the grand opening toast in St. Mark's Square – on February 19 at 7 o'clock pm; the parade of boats – on Sunday 20, with vintage boats departing from St. Mark's Square and arriving on the banks of Rio de Cannaregio becoming gastronomic stands; the Sea Festival on Saturday 26, with departures at 2.00 pm from San Pietro in Castello and arrival in St. Mark's Square around 5.00 pm; the Angel Flight on Sunday 27 at noon, from the bell tower of St. Mark's to the ground, where it will be welcomed by groups in historical costumes; the parades of masks on stage in St. Mark's Square – on March 3, 4 and 5, with the award ceremony of the most beautiful on Sunday 6 at 3.00 pm.
Throughout the period, from Saturday, February 26 to Tuesday, March 8, from 2.00 pm until late at night, in the Grand Foyer of St. Mark's Square are held circus-theater and other kinds of shows, parades, entertainment activities, live concerts and DJ sets.