Food & Wine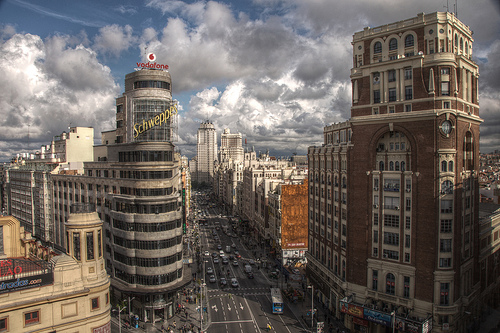 Published on July 13, 2011 | by Andrea Guerriero
0
Best restaurants in Madrid
Madrid, capital of Spain, is the most important and most interesting city of the Iberian Peninsula. A bit far away from the sea, but this is its only "fail" because thanks to the numerous works of art, its culture, cuisine, climate, people and its world famous "movida", this city is definitely one of the most beautiful and most interesting to visit all over the continent, with a consensus that it is much increased over the last year.
The climate, as in almost all the rest of Spain, is particularly pleasant throughout the year, but the best seasons to visit Madrid are spring and autumn. Also because these are the times when you can better appreciate the gastronomy of the city, for the increased number of seasonal products and the opportunity to enjoy them outdoors.
So, after a nice and interesting day exploring the impressive monuments such as the Palacio Real, and religious buildings, first of all the Cathedral of Nuestra Señora de la Almudena, before moving to the beautiful squares – such as the Plaza Mayor or Puerta del Sol, up to an interesting visit to the museums, with the 100 halls of the Museo del Prado on the top of the list, enjoy the rich and appetizing cuisine of Madrid, which has the feature to offer dishes and recipes from around the country: historic sites, luxury restaurants, taverns and places where to eat is more a way to stay in good company rather than just a food source.
Casa Botin – on Cuchilleros 17 – is said to be the oldest restaurant in the world, and offers Castilian specialties, but also the Casa Lucio boasts very ancient origins. La Paloma and Casa Alberto are renowned for very affordable prices; Lhardy and La Bola offer typical dishes from Madrid, such as the cocido madrileño – slow cooked in a clay bowl.
Those who travel to Madrid must bear in mind that meal times – here as for the rest of Spain – are quite different from elsewhere; do not stop for lunch before two in the afternoon while you are likely to have dinner around ten o'clock in the evening. Before and after the main meal, locals usually enjoy the unmissable 'tapas' – served along with glasses of strong wine or pints of beer.  Here are the best tapas bar in Madrid. The rest is up to you: enjoy!
Photo by felipe_gabaldon