Top 10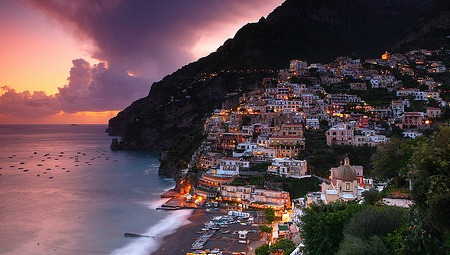 Published on January 9, 2013 | by Andrea Guerriero
0
Best holiday destinations in Europe
If you're reading this post it means that the Mayan Apocalypse rumors are no longer a problem affecting mankind. The world didn't end, so there's no better time to explore it! Check out these hot spots around Europe we are going to propose. Great ideas for your 2013 holiday destinations. From the peace and quiet of the charming Italian countryside to Spanish Movida, and up to Iceland's renewed popularity, there are plenty of places in Europe offering a fresh reason to visit in the year ahead.

Amalfi Coast
If you've just decided you'd like to leave for a short holiday in the next weeks, a walking holiday in Italy could be a nice bargain in this off-season. Our tidbit is: walking the Amalfi Coast. Go now, before the big crowds arrive, the weather is good enough to explore all its charming villages and enjoy amazing walks in the countryside. The Amalfi Coast, that stretch of coast closed between Positano and Vietri sul Mare, is synonym with beauty, scenic nature and glamour. While walking the Amalfi Coast you will follow mule tracks and old paths through hillside villages, lemon groves and beautiful deep gorges, saving the best till last, to complete your tour with one of the world's greatest walks along the 'Path of the Gods,' a walking track between the towns of Agerola, Praiano and Positano, at an average height of 500 mt asl, which boasts one of the most "divine" panoramas of the World: an incomparable overview from the Cilento Region to the Island of Capri.
Iceland
If you think you've seen everything around Europe, don't miss out on Iceland this year. Why this year? Because this is the last chance to beat the crowd! Iceland is a land of strange phenomena, with weird volcanoes that spread their ash in the sky, aurorae borealis dancing in the Arctic nights and goblins lurking in the fjords. This small island nation, sometimes overlooked by many, is attracting more and more tourists every year, thanks to its breathtaking sceneries and tasty fish or lamb dishes, as well as the warm hospitality its inhabitants hold under their hard Nordic shell. Reykjavík, the capital city, The Blue Lagoon, one of the most visited places, Dorsmork, one of the many and most famous nature reserves in the region, the West Fjords, geysers, waterfalls and glaciers, you name it, Iceland offers a wide choice of experiences for the traveler, regardless of when you visit the country.
Spain
The world's second most-visited country in Europe is determined to become number one very soon. Head to Spain, again and again, for its vibrant contemporary life, for the architectural beauties of it cities, for the amazing beaches: Barcelona has cutting-edge fashion and impressive architectures, Valencia is known for its festivals, the tasty Paella Valenciana and ceramics, Madrid is one of Europe's trendiest capitals, with a terrific restaurant and nightlife scene. It's always worth visiting Spain once in while, and anyone can cut out a weekend or more to get back there and surely find something new!
No, that's not it at all, but this could be a good start. Our first and foremost advice is: travel, as long as you can, stay young and wild, stay alive. As long as you can. Traveling – to learn, to relax, to taste or just have fun – is one of the most amazing things you can do in your life.
Photo by hozinja