Germany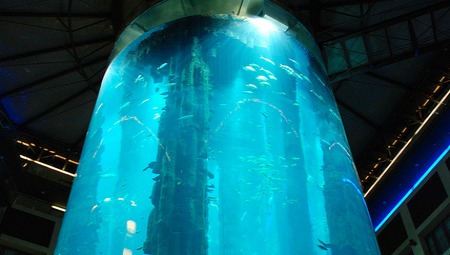 Published on April 12, 2012 | by Elena
0
AquaDom Berlin – the world's largest cylindrical aquarium
The AquaDom in Berlin, Germany, is the world's largest cylindrical, acrylic glass aquarium with built-in elevator. It is hosted inside the Radisson Blu Hotel in Berlin-Mitte, in one of the more exclusive areas of the city. It is maintained by the Sea Life Berlin, one of the most renowned chains of commercial sealife-themed attractions in the world.
The Radisson Blu Hotel, 3 Karl-Liebknecht-Straße, Berlin, is an exclusive 5 star hotel located on the Spree River, opposite the Berlin Cathedral, and close to many of the city's major landmarks, including Alexanderplatz and Museum Island.
The hotel features first-class services and amenities, including a well-equipped fitness centre, wireless-LAN and high-speed Internet access as well as a recreation area with swimming pool and different saunas. And, by the way, also the world's largest cylindrical aquarium: AquaDom.
With one million litres of saltwater, this amazing aquarium is habitat to more than 1,500 tropical fish and over 50 different species, including trigger fish, blowfish, surgeonfish, soldierfish, Silver moonfish and other weird-named, wonderful varieties.
The height of the AquaDom is 25 metres, with a diameter of about 11 metres, and it is made of acrylic, with a thickness of 16 cm on the top and 22 cm at the bottom.
The AquaDom is maintained by the Sea Life Berlin, located right next to the hotel, and is actually its current main attraction. Sea Life is a chain of commercial sealife-themed attractions owned by Merlin Entertainments. Besides entertaining and amusing visitors, Sea Life Centres – present around the world – claim to champion the cause of marine conservation through education, awareness and, wherever possible, direct action. Due to their commitment, one thing is sure: those fishes are respected and have great lives! For example, two full time Scuba divers are responsible for the care and feeding of the aquarium and its inhabitants, and one can often see them swimming around in full scuba gear with the fish as an added attraction.
Visitors to both the hotel and Sea Life Berlin can take a breathtaking ride in this one-of-a-kind sea life habitat. Indeed, a two-story elevator takes up to 48 guests up through the inside of the tank, for a full 360 degree view of the fish as well as the divers that care for them and the tank on a daily basis. The elevator takes guests and visitors to a sightseeing point and restaurant under the glass roof.
Many of the suites in the hotel have been designed to provide views of the aquarium. In short: this is a large attraction inside a huge facility, visible from almost any part of the building. Definitely worth to visit if you are in Berlin.
Photo by tjuel