Europe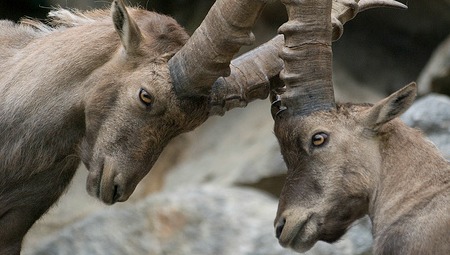 Published on April 23, 2012 | by Daniela
0
Alpenzoo, the Highest Zoo in Europe
With around 300 000 visitors every year, the Alpenzoo – high over the roofs of Innsbruck – is the largest cultural institution in the country of Tyrol. As the name (and location) suggests, this zoo specialises in Alpine creatures, and is a great place to see some of the rarest creatures in Europe, including bears and wolves. More than 2000 animals of 150 species invite you to experience the highest located animal world on Earth, at 727 mt asl!
I'm not a big fan of zoos, actually. But this one caught my attention for several reasons. First of all, among zoo experts and the public alike, the Alpenzoo is well known and acknowledged for its success in breeding rare species.
It also hosts a two species of European vulture, one species of which the zoo brought back from the edge of extinction.
Another good point I found out is the presence of an education department, since 1984, which is committed to knowing the animals and their daily and seasonal rhythms. Besides supervising school classes, they are also involved with adult education, and they run the zoo's own library. This makes the zoo not only about watching, but also learning and especially respecting.
Third winning feature: the Alpine Zoo is a non-profit organization. The main source of income is the visitor's entrance fee (approximately 8 Euros) and they receive additional financial support from the city of Innsbruck and the government of the Tyrol, the association "Freunde des Alpenzoo," and several sponsors and animal adopters.
That's why I'm just glad to be back and talk about it! Briefly, of course, as long as I prefer not to spoil the surprise.
The Alpenzoo, the highest zoo in Europe (727 mt asl), is located in impressive position at the foot of the Nordkette mountain range at the border of Innsbruck, and can be reached either from the Hungerburgbahn funicular, or by shuttle bus from Maria-Theresian Strasse.
It only hosts species that suit the environment the zoo was based in, so almost all animals can be observed, right in their habitat, during the winter, except marmots, snakes and amphibians, which oversleep this season. In spring many young animals come out from behind and of course this also attracts a large number of visitors. There are pygmy mice, terrapins, marine otters, brown bears, chamois and many other alpine animals. And if you are really lucky you can hear the wolves howl when the church bells of Innsbruck ring…
All this, is supplied by the presentation of historical and present way of live, provided by the zealous staff of the education department.
The opening hours are: April – October, daily from 9 am – 6 pm; November – March, daily from 9 am – 5 pm. One last suggestion: the Alpenzoo is located on a slope with some rather steep sections of track, so remember to wear comfortable shoes!
Photo by Fundraisingnetz