Europe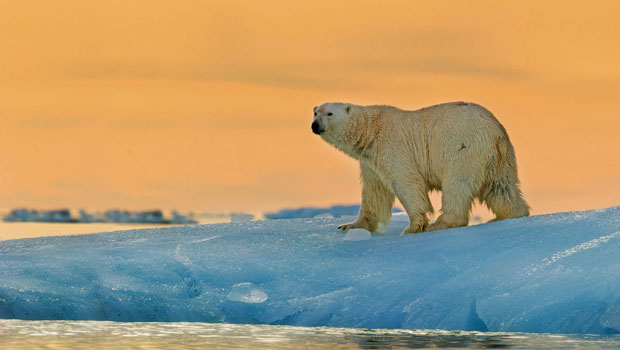 Published on November 17, 2015 | by Andrea Guerriero
0
Discover Svalbard: the realm of the polar bears
You may have seen polar bears in the past during a visit to your local zoo, but this pales in comparison to the experience of seeing these magnificent creatures in person. However, for most people, this seems like an unobtainable goal because they are not aware of the polar bear viewing opportunities that actually exist. For example, if you want to plan a trip around the possibility of observing and photographing polar bears in action, it makes sense to head to Svalbard.
Where is Svalbard?
Svalbard is in the Arctic Ocean, and it is a Norwegian archipelago. Although it is located approximately midway between the North Pole and Norway, Svalbard is surprisingly home to more than 2,600 people. This makes it one of the most populated areas in the northernmost section of the world.
How Common Are Polar Bear Sightings in Svalbard?
It is estimated that 20,000 to 25,000 polar bears can be found worldwide, and approximately 12 percent of them live near Svalbard. The ice found in the waters surrounding the archipelago makes an ideal resting and hunting ground for these massive creatures, and it is not uncommon for them to reach a height of 2.5 meters (8 feet) and weigh as much as 700 kg (1,543 lbs). In other words, there are thousands of polar bears near Svalbard, and their size and characteristic black noses and white to yellowish-white fur helps make them stand out.
It is, of course, impossible for anyone to predict exactly when and where polar bears will be the most accessible at any given time. The good news is that there are professional guides available who have a proven background in navigating through the waters of Svalbard, and they will definitely increase your odds of ending your holiday with some polar bear photos on your digital camera's memory card.
Can Polar Bears be Spotted from Land?
If you truly want to have the memorable experience of seeing polar bears in their natural habitat, your best shot is to go on a Svalbard cruise. This will get you out on the water and enable you to have easier access to floating ice and other sea ice formations that attract polar bears.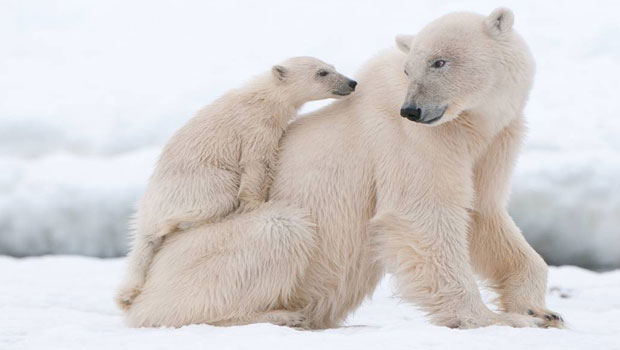 The polar bears in this region may be plentiful, but they are also good at staying hidden when this is advantageous for them. With this in mind, you should be prepared to spend a significant amount of time traveling through the Svalbard archipelago if a polar bear spotting is one of your primary goals. When the polar bears do come out, it can be a single bear or several of them working together to hunt their dinner. It is rare, but you might even be greeted by the sight of two polar bears sparring. There are numerous reasons that these creatures may choose to engage in a physical confrontation, and seeing it is stunning. In fact, those who have witnessed this event have indicated that it looks almost like the polar bears are dancing.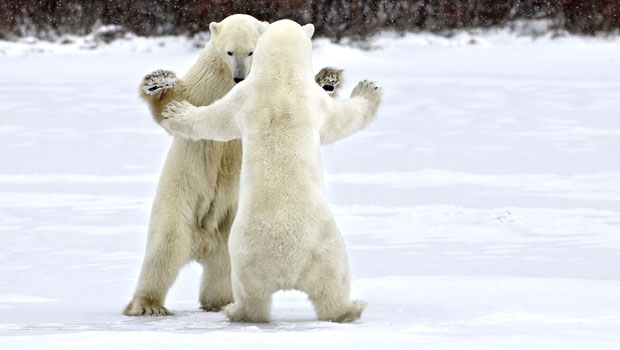 Some visitors to this region have even had the good fortune to spot baby polar bear cubs with their mother! These animals may be seen moving across the frozen inner fjords of Spitsbergen during the early summer. Again, this is an encounter that requires a boat, and the icy water near Svalbard is not safe for just anyone. Make sure that you connect with a cruise operation that has the necessary experience and skill to move through the water while also keeping an eye out for notable birds and animals, including polar bears.
Other Svalbard Highlights
Polar bears may be what initially captures your interest in planning a Svalbard holiday, but they are far from the only notable attractions in the region. Many people are able to combine their desire to see polar bears with the exceptional beauty of the Northern Lights. Svalbard is also home to numerous types of animals: Arctic foxes, the Svalbard reindeer, seals, walrus and seabirds. The icy waters have a diverse assortment of marine mammal life that includes 19 species. Overall, Svalbard makes for an exciting and adventurous holiday destination. This area is for hardy travelers who are willing to forgo relaxing on a warm beach in exchange for seeing some of the most fascinating creatures on earth.