Shopping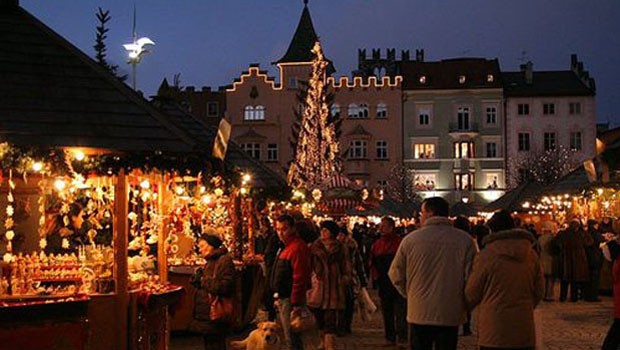 Published on November 19, 2010 | by Francy
0
A quick guide to Xmas Markets
The magic of Christmas renews every year, with the tradition of Christmas markets: from mid-November to Boxing Day. The most famous in Italy are in Trentino and Alto Adige area, but there are many also in Europe.
When it comes to Christmas markets, we usually think of the pristine snow hills in Trento, Bolzano, Bressanone, Merano, Brunico, Val di Fiemme and Val di Fassa, Cortina and Asiago, or behind the Iron Curtain, those of Innsbruck and Copenhagen and Prague.
More than ever, this year you will have many opportunities for traveling to cities, provincial capitals, but even small towns, to chase the more beautiful craft objects, the more artistic package, the sweeter sweet.
A few examples?
An interesting union of sport and culture, a city well known for the beauty of its mountaintops covered by snow, but also for the harmonic cohesion of ancient traditions and the sprightliness of a modern city. Innsbruck hosts the typical Christmas Markets in the heart of the medieval town from November 23 to December 23. An occasion to think about Christmas gifts for friends and relatives, to find an pretty idea or Christmas trimmings.
Copenhagen, the city of the mermaid, of Andersen's fairy tales. A city rich in tourist attractions and amusements, fits for lovers of ancient and modern. A city characterized by the typical Scandinavian charm with elegant shops and cosy coffeehouses, preened by parks, fountains and squares, able to endear you with its unique mix of glamour and sprightliness. Unmissable Tivoli's Christmas market until December 30, a frisky atmosphere characterized by the authentic smell of cakes and juleglogg but also by the typical Christmas carols.
Let's move to Prague the beating heart of the Czech Republic. Christmas markets are key ingredients in the Czech Advent period. The main markets await you in the Old Town Square and in Wenceslas Square till January 01st. They consist of decorated wooden huts, selling Czech handicrafts, wooden toys, scented candles, Christmas tree ornaments, hand-made jewellery but also hot food such as corn on the cob, sausages and local specialties, warm drinks, and, of course, puppets! Moreover don't forget to visit Bethlehem nativity scene – a large wooden stable with a straw floor showing Mary, Joseph, baby Jesus and the three kings.
Photo by darvina06
Photo by roblisameehan