United Kingdom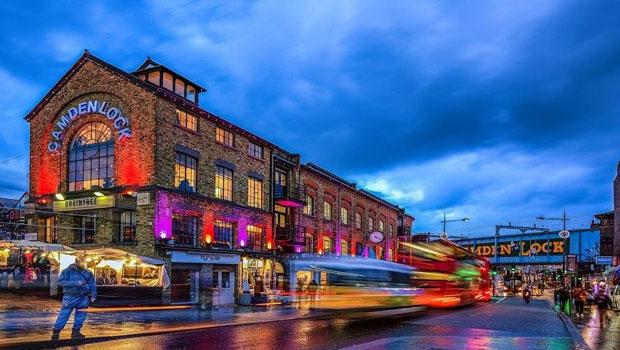 Published on October 19, 2016 | by Emma Williams
0
Lose Yourself in the Streets of Camden Market
London has many sights and sounds to offer tourists. It's difficult to choose where to go and what to see. The Camden Markets  are a bustling part of London and this article will help you explore it to its heights and depths or even just let you discover whether or not it's something you want to see.
London is a sprawling city full of interesting places and enticing sights. Tourists can struggle with what to do and what to see while visiting England's capital. The Camden Markets exist in the alternative side of London and are very different to any other offering; you might find.
As long as you aren't expecting boutiques and chain stores, you shouldn't be disappointed. With a distinct carnival air to it, the Camden Markets are vast and more than a whole day needs to be devoted to winding your way through every alley and down every path. A riot of colors to contrast with the frequent gray skies, the markets offer everything from top hats to corsets and hot dogs to Turkish carpets.
The Camden Markets have several areas to explore. Each has a distinct flavor to it but all are delightful. You can have your feet tended to by fish or buy tacky souvenirs for those back home. Even if you just go to walk around and stare at the many wondrous people and things, you'd be joining the multitude of other tourists and locals who do the same.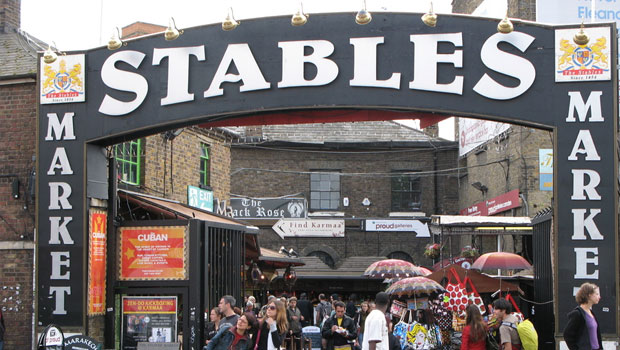 The Stables Market have the vintage stalls where you can find hidden first editions and luggage from the forties. Old toys, comics, and magazines sit in abundance as well as items you might only guess at. Some of the Stables exist in the tunnels and underground parts of an old horse hospital and the Pickford stables. Vendors sit next to the open stable doors and when they leave for break, lock their wares up behind them as if they were a recalcitrant steed.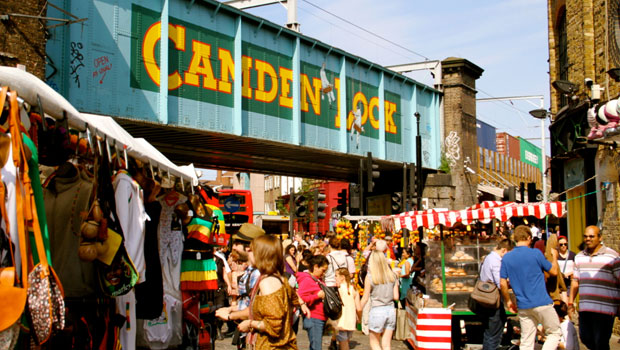 The Camden Lock Market sits on the canal that bisects the main street. While it used to be only a craft market it has since expanded. Over the bridge on the Camden High Street, the market sits in and around a large, three-story brick building with a view of the canal lock which boats still use. Handcrafted jewelry, leather-bound journals and stretched canvases with cult images sit side by side under tents and in the shop fronts. There are wall hangings and incense and it is flooded with people on the dullest of days.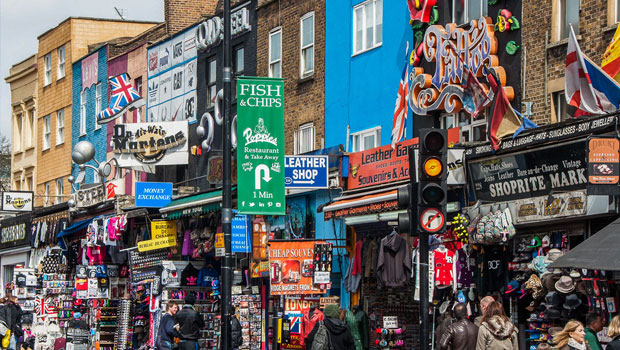 Inverness Street Market is where much of the food can be found. Though all of the Camden Markets have food carts and hole-in-the-wall eateries, Inverness Street has the fresh produce stalls from its past as the fruit and vegetable market. Since then, however, it has also expanded to selling bargain clothing and souvenirs.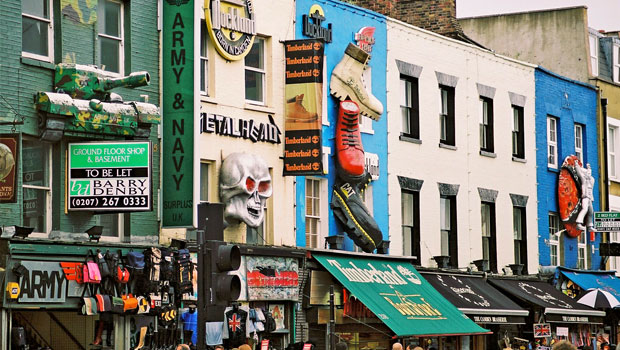 Buck Street Market has around two hundred stalls squeezed into narrow backstreets and alleys. While it may look like a maze, and it is difficult to find your way back to a stall you may have bypassed originally, it's always an adventure to push through the hordes of people and busy stall owners to find your treasures.
You can eat lunch on half of a motorcycle, facing a mural, or find a strange pair of shoes in Irregular Choices. You'll see people dressed in costumes or jeans, with sky-high shoes and black-rimmed eyes. Take your picture by the many brass horses or by the fifteen-foot metal men who guard the entrance to CyberDog. But keep a close watch on your bag because rascals abound and you'll never know what you might find in the snaking, twisting turns of London's Camden Markets.