Wellness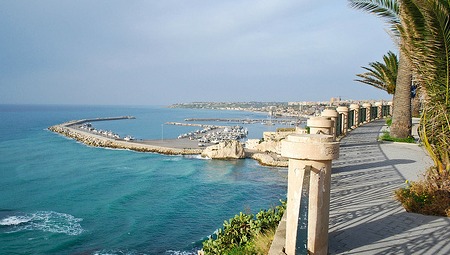 Published on April 29, 2011 | by Andrea Guerriero
0
A Cocoon Town in Sicily – The Thermal Baths of Sciacca
Sciacca is a small town on the west coast of Sicily, in the area of one of the most beautiful and interesting archaeological sites in the world, in the heart of Magna Graecia, between Selinunte and the Valley of the Temples in Agrigento. It is a city of sea, tourism and spas.
The town of Sciacca is on the coast of the Sicily Channel – between the mouths of the Platani and Belice rivers; to the east rises Mount San Calogero, on whose slopes spring, for a course of about six kilometers, the famous thermal waters.
Sciacca offers visitors numerous places of interest. A visit around its historical neighborhoods will allow you to discover lovely treasures of art and architecture. Churches, palaces and monuments allow you to plunge into various eras; visiting the city, in fact, you will appreciate the pot-bellied railings of the balconies, elegant portals, mullioned windows and a thousand signs of ancient cultures, now incorporated in buildings of later periods.
However, nowadays the fame of Sciacca is mainly due to its rich hydro-thermo-mineral waters and to the famous vapor caves of Mount St. Calogero – where you can enjoy natural saunas. The new Thermal Center, in the typical style of Mediterranean Liberty, stands on a promontory overlooking the sea. The thermal park has a large swimming pool fed by sulphurous water open also to the public, in addition to another pool complex located in Molinelli.
The Antiche Terme spa complex, which retains its nineteenth-century charm, is located in the so-called Valley of Baths, not far from the sea; the spa has been recently restored and will soon house special care units as well as a center for the treatment of skin diseases. In Sciacca you will also enjoy many spa hotels offering great services and beauty treatments.
To the enchanting landscapes, Sciacca combines the wild beauty of the rugged coastline, the sandy beaches, the brightness of the sea and a gentle healthy climate which makes it an ideal place for healing, wellness and relax. In Sciacca you can also practice many water sports such as fishing, water skiing and sea excursions.
Sciacca is a very small town, aimed especially at a mature target; it is perfect for people searching for wellness and relaxation. A stop here is a must for anyone visiting this area of Sicily, so it would be perfect to include it in the itinerary that you will follow to explore the neighboring cities and villages, such as Agrigento, Selinunte and Mazara del Vallo.
The nearest airport is that of Palermo and the best way to get around is hiring a car.
Photo by eduardomineo