Italy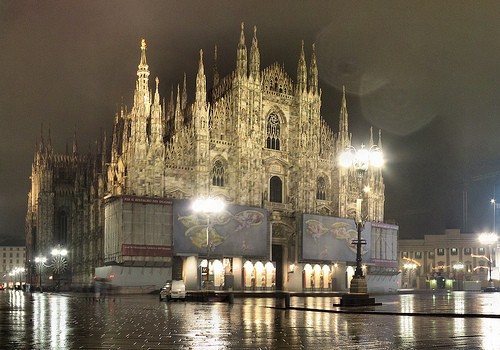 Published on March 3, 2011 | by Andrea Guerriero
0
Enjoy Milan without spending a fortune
This is one of the most expensive cities in Europe: here are some tips on how to visit it and spend leisure time without spending so much or even for free. The starting point can only be Piazza del Duomo, with its magnificent cathedral.
The first stop on this free tour of Milan is the city's main square, Piazza Duomo, reachable by the Red and Yellow Metro lines. The visit to the cathedral is free, while walking up on the top, between the peaks, with views over the city, costs from 3 to 5 Euros.
The second stage is the Galleria Vittorio Emanuele, which leads to Piazza della Scala. At the entrance to the gallery on Piazza Duomo, every day there are knots of people arguing about politics, and elderly gentlemen who spend their time talking about the affairs of the municipality and the government.
From Piazza della Scala, turning right, you will get to the legendary 'Fashion District' closed between Via Montenapoleone, Via Manzoni, Via della Spiga and Corso Venezia. In this area there are a few of the most beautiful streets of downtown, with luxury shops, art galleries and 4 and 5 star hotels: Via Borgospesso, Via Santo Spirito, Via Gesù, Via Sant'Andrea and Via Bagutta.
Returning to Piazza del Duomo and walking along Via Orefici you arrive in Piazza Cordusio, the financial center of Milan. From here, Via Dante, all pedestrian and full of shops, you arrive in Piazza Castello. The Castello Sforzesco and Sempione Park behind it are a must: the castle in some of its areas can be visited free of charge.
Another area of Milan where tourists like to walk and where the nightlife habitually flows is the Navigli area. The whole area between Corso di Porta Ticinese, Piazza XXIV Maggio, Corso San Gottardo, Via Ascanio Sforza on the Naviglio Pavese, Ripa di Porta Ticinese on the Naviglio Grande and the Darsena, are places full of interesting shops and restaurants, as well as many antique shops.
Other districts of Milan, where guests can spend their time and where you meet both youth and tourists are the Isola district in the north of Milan and the Città Studi district, where there is the Polytechnic of Milan.
Photo by Panoramas