Winter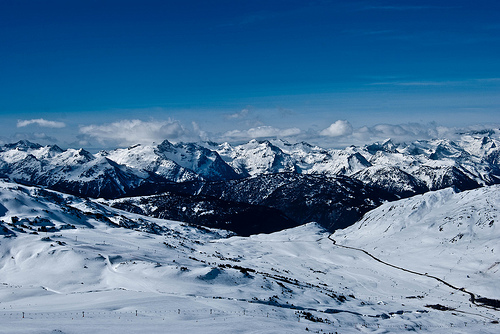 Published on October 10, 2013 | by Daniela
3
Winter holidays in Catalonia: ski resorts near Barcelona
The ski season in Barcelona is just around the corner. Skiing is not exactly the first thing that comes to mind when thinking of a holiday in Barcelona. However, skiing in the Pyrénées has a lot to offer and there are many ski resorts close to Barcelona.
So anyone who happens to visit Barcelona in this period and doesn't want to give up skiing during winter holidays, here will find great runs and great snow.
There are plenty of places to go skiing in Spain, and just a few hours outside Barcelona, you can enjoy a snowy weekend getaway or even a week long vacation depending on where you go. There are 14 ski resorts near Barcelona, in the Spanish/Catalan and French Pyrenees mountains. The driving times to go skiing from Barcelona vary from 90 minutes to a little over 4 hours.
Generally the skiing resorts close to Barcelona have great snow, uncrowded pistes and short lift queues. As the Spanish generally don't like off-piste skiing, there are many free ride trails and off piste runs to choose from. Moreover, those same few Spanish, don't really get up early to be first on the pistes, so morning lift queues are short. The after ski scene is generally much quieter than the Alps, which makes skiing in Spain perfect for beginners, families and serious skiers.
The ski-resorts of La Masella and Port del Comte are around 2 hours by car or train from Barcelona. They are great for a day trip or even a half day trip.
However, the best ski area, as well as the closest to Barcelona, is definitely La Molina. Located roughly an hour and a half outside the city towards the Pyrenees, this small resort is said to be the oldest ski resort in Spain, but boasts thoroughly modern facilities which are continually being developed and improved. With 300 days of sunny blue skies per year, this place is internationally renowned in the world of sports, not for nothing it hosted the Snowboard World Championships in January 2011.
The mountains are over 2500mt high, much like the Alps, so the snow conditions should be pretty good, if not, no less than 326 cannons guarantee the presence of artificial snow on 20 kilometres of the marked runs. Divided into 4 different ski areas, there are a total of 16 lifts and 42 ski slopes – including 7 green runs, 12 blue runs, 15 red runs and six black runs. Skiers will also enjoy plenty of ski schools, snack bars and cafes, as well as a kindergarten for infants and a snow garden for older children.
There are many other very good ski resorts close to Barcelona and most are between two and four hours drive. The biggest and most exclusive resort near Barcelona is Baqueira-Beret: 78 runs, 1,922 hectares of skiable terrain and 33 lifts, mainly a winter vacation home to pijos, "posh" Catalans but also a great place to go with the whole family.
Generally many ski resorts near Barcelona are open before Christmas and many open in late November in preparation for the December "puente" public holidays in Spain between December 6th and 8th, so if you want some early skiing, get ready for your unconventional one in Barcelona!
Photo from javi sas