Entertainment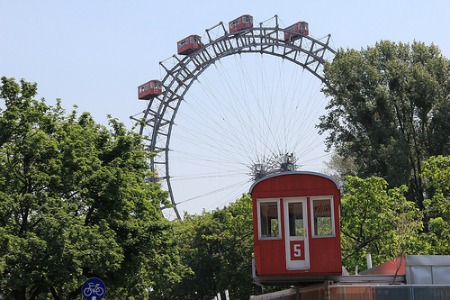 Published on March 9, 2012 | by Daniela
0
Wiener Prater: strolling and having fun in Vienna
Vienna is a wonderful city, which boasts a rich tradition of excellence in many fields ranging from art, to music, and up to history and food! If you like travelling, history and landscapes, you have to visit Austria's Capital, especially if you're with your family. And if you happen to be on tour in Vienna, then you must never miss a visit to one of the greatest landmarks in the world: the Wiener Prater, simply known as Prater, which is a park full of attractions located in Leopoldstadt, in the second district of Vienna.
Before it became an amusement park, the Prater was a hunting ground for the imperials and only allowed for the aristocracy. The place where the park is currently located was donated by Friedrich I in 1162, when he gave the lands which belonged to his family, part of the Austrian aristocracy, called Prato, to the State.
Indeed, Prater comes from the Latin word 'pratum', which means field and, as its name indicates, it's a park full of trees and green, but also trains to get around and see the place and several attractions for all ages. Spread over 6 million square meters of vast meadows and woodlands, the park is also home to the oldest amusement park in the world: the Vienna Wurstelprater!
Here, you'll find more than 250 attractions, including the Boomerang, the SpaceShot, the Star Flyer, which are definitely only for the most daring! However, the Wurstelprater wasn't an actual amusement park until 1895, when the giant Ferris wheel called Riesenrad was built, one of the landmarks of Vienna.
This wheel, the only one from its time which is still used today, is 64.75 meters high and from the top you can get incredible panoramic views of the entire city!
The 15 cabins, can host all kind of special events like celebrations, press conferences, or romantic dinners. The prices for hiring the cabins range from € 116 to € 260 and the minimum hire period is 1/2 hour.
After the whirl around the Riesenrad, you can enjoy the rest of your day by simply strolling down to Prater Hauptalle, you can walk around the beautiful gardens, rent a boat or ride around on a bicycle. There is also an area in the park designed especially for restaurants, cafes, ice cream shops and bars where you can taste typical Austrian specialties!
During the summer, entrance is usually free and the park is open until late in the evenings. Each booth in the Vienna Prater is an independent enterprise – which is why you don't have to pay an admission charge to enter the Prater, and also why the various attractions in the Prater don't have uniform opening times.
Be sure to visit the Prater Park if you're looking for total entertainment during your family vacation in Vienna!
Photo by ComùnicaTI