Top 10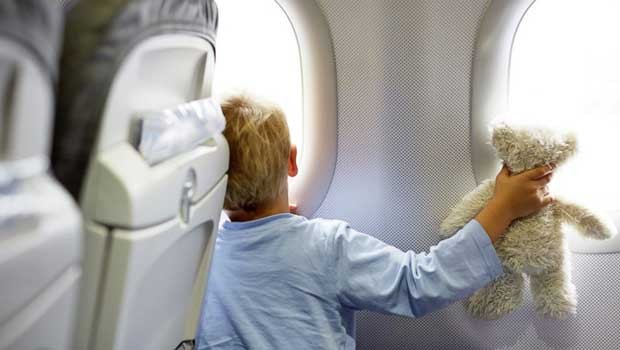 Published on January 21, 2015 | by Lisa Coffey
0
How to Entertain Kids on Long Flight
Most parents start to stress as soon as they even think about taking their children on a long flight. However, with many families needing to visit relatives around the world or wanting to introduce kids to the cultural insights of an international trip, a sojourn on a plane often becomes necessary.
Flights can be long and boring for everyone but are especially so for children, so whether you've booked a long flight for your whole family or are just traveling a few hours closer to home, you will want to keep the crew happy on the journey. Read on for some of the best ways to keep the peace and your sanity on your next long-haul flight with kids.
Books
Books are a fantastic, quiet option to keep children amused during a long flight. Apart from their favorite storybooks, think about packing some other styles such as a children's travel book, an "I Spy Treasure Hunt" or "Where's Waldo?" text that keeps kids concentrated on finding a hidden character, a sticker book to keep little hands busy, or an activity book that contains a mixture of puzzles and games like connect the dots, word searches and more. You can also pack a brand new set of crayons or pencils, and a coloring book based on your child's favorite characters, TV shows, or the destination you're headed to.
Tech Gadgets
If you have an iPad, other tablet, or handheld video game, bring it along on the flight. Even your smartphone can have a bunch of games on it and be used on flight mode during the journey. Although you probably don't want your kids spending too many hours on these types of devices in general, on a long flight the technology can save your sanity. Before you leave home, ensure the gadget has some fun, interactive and educational games downloaded on to it that your child can be absorbed by when traveling.
Board Games and Playing Cards
Add some travel-sized board games and a pack of cards to your carry-on luggage and you'll have a happy, entertained child on board the plane. While normal-sized board games are too bulky for squishy airplane tray tables, many well-known options have made compact travel versions available. A pack of cards can also be handy, as games like Solitaire, Snap, and Fish make for fun flight time.
Create a Scrap Book
A great way to get kids excited about their journey and also absorbed in a task on the flight is to help them create a scrapbook of their holiday. Pack a fresh new journal or sketch book and encourage your child to keep a diary of every stage of the trip — of course starting with drawing and writing about their time on the plane! On the return journey, the scrapbook can be updated with receipts, ticket stubs, photos, maps, postcards, menus, and other items that the child collected during the holiday.
TV Shows and Movies
It is also a good idea to rent an on-board entertainment system on a flight if it isn't already included in your tickets. Again, while you won't want your kids to spend 12 hours glued to a screen, watching a cartoon, television show, or movie during the flight is a good way to break up the time for young ones (It also happily gives parents some quiet time as well). It's beneficial to plan ahead and pack your own earphones for the flight, as some of the buds that come with the rented screens can be too large for small ears.
Snacks
A fantastic way to entertain kids on a long flight is giving them small, non-messy snacks to eat. Any foods that take a long time to consume are best, as these will keep the young ones occupied for a good amount of time. Pack the snacks in small containers and hand them out at intervals to break up the flight and extend eating time.
Pack items you know that they like, plus some new things to try for the novelty factor. Some snack ideas are trail mix (messy at home, but a perfect treat to keep littlies occupied for ages on a plane), carrot and celery sticks, energy balls, and cheese and crackers. Just make sure you steer clear of sugar-filled treats, as you don't want a sugar high (then low) hitting your child on a cramped airplane!
---
No matter where you're traveling to, or how long the flight is, if you step on board a plane prepared with plenty of activities to keep your child amused, the trip will proceed more smoothly.
You can also involve your kids in the process of packing to help foster their love of adventure and a feeling of control over the situation — children are more likely to stay calm on a flight if they have had some say in what they bring along and how they spend their time during the journey
Remember, sitting in one place for long periods of time is not natural to toddlers and preschoolers. A smart parent will use creativity, patience, and surprises to stay two steps ahead of little travelers.