Wellness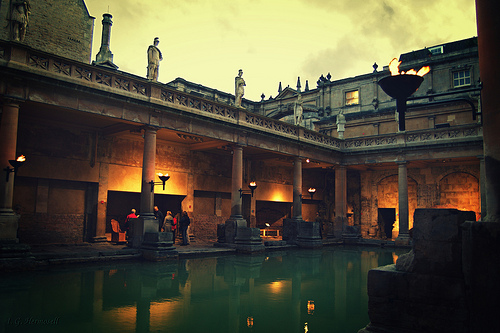 Published on January 4, 2011 | by Francy
0
Wellness in Bath: between thermal baths and history
Bath is a charming city of the United Kingdom, in the county of Somerset, whose name stems from the thermal baths built by the Romans . The hot sulphurous waters of this area have been known since antiquity and for its Georgian and Palladian buildings, it has been declared as a UNESCO World Heritage Site.
The city lies on the banks of River Avon and is surrounded by the Cotswolds and the Mendip Hills. The historical centre was created just to accommodate visitors to the springs and hosts some of the major monuments and tourist attractions in town, such as the Roman Baths, Abbey Church – the Gothic Cathedral – and the Guildhall, the town hall. In neo-classical Palladian style, by architect John Wood, is the Royal Crescent with the Circus, a crescent-shaped apartment complex. The city is also famous for the typical color of the stone used for buildings, a tan-colored sandstone.
But the main attraction of the city are definitely the hot springs that between 2000 and 2006 saw the birth of a new modern center by architect Grimshaw. The work has allowed the recovery and restoration of five old buildings with the aim of creating a brand new structure. Over time the city of Bath has been equipped in the best way to accommodate the many tourists who come and visit every year to attend the public baths. There are more than 80 hotels in Bath and more than 200 B&B. Throughout the city there are also many pubs and restaurants.
Photo by bichologo_errante