Italy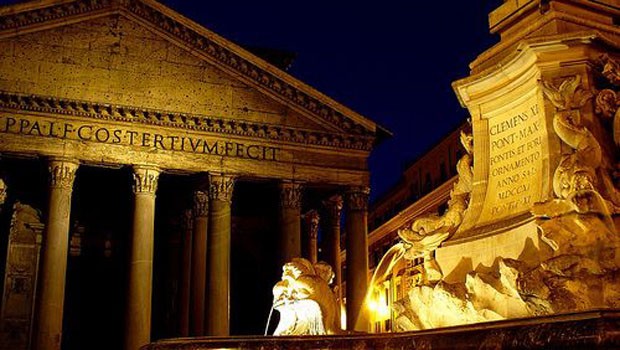 Published on December 4, 2009 | by Francy
0
Travel to Rome, quick guide
Rome is the Eternal City, Caput Mundi, capital of Christianity and dolce vita of Marcello Mastroianni and Anita Ekberg. Rome is a wonderful place for holidays … and for millions of tourists from around the world: U.S., Japan, China and from every corner of Europe.
Rome is Vatican and Trastevere, the sacred and the profane in a few square kilometers. Rome is Coliseum, even more famous after the Gladiator by Ridley Scott. Rome is Trevi Fountain, Campidoglio, Imperial Forums.
But not only, Rome is spring lamb and codfish, Rome is puntarelle and wines of Castelli. Rome means history of kings, emperors, legends and all the roads that depart from Rome and all arrive at Rome. Rome brought civilization, legions and intrigues of the palace in Constantinople. Rome is the Romans, the few "romani de Roma" which still can be called such. Rome, capital of that Italy envied around the world, because it is cradle and heart of art and life.
How to get to Rome
Rome has two international airports, Leonardo da Vinci, known as Fiumicino airport (about 25 kilometers from the city) and Ciampino airport, a former military airport (15 km from the city) where now arrive mainly charter and low cost flights. From Fiumicino airport depart shuttles that lead to Termini train station in about half an hour and a local train that goes from Ostiense, Tiburtina and Tuscolana stations in about 45 minutes. From Ciampino airport there is a bus connection to Anagnina station, where you can take the subway in order to reach the center of the city.
From the airports there are thousands of taxis that daily shuttle to the center: it is better to take those authorized, otherwise, fixing the price before to get in unauthorized ones. Rome is also reachable by train: with the high-speed lines you can get to the capital, for example, in 3-4 hours from Milan.
By car, coming from north (Florence) or south (Naples), highways converge in the Grande Raccordo Anulare (literally, "Big Ring Junction"), a mixed blessing for Romans and those who working in the morning have to get to the center: the hours of waiting in queue are by now proverbial and at the heart of many urban legends.
Accommodations in Rome
In Rome there are more or less 800 hotels, as many B&B, more than 200 religious institutions that offer hospitality to tourists and pilgrims and over 250 residences and holiday homes. In short, the choice is as wide as possible … as long as you book in advance.
Rome is rich of tourists all year round, in fact, there is no seasonality, even because the weather is usually quite mild. Typically, to sleep cheap in Rome you should choose B&B or religious institutions. Hotels and pensions, even far from the city center, have higher average prices, because the city subsists on tourism throughout the year. The largest and most prestigious hotel chains have their own facility in Rome, some of which are in historic houses renovated and equipped with all comforts demanded by discerning and wealthier travelers.
Around Termini Station, you can find the cheapest solutions, given the fact that the average price is quite high. For more DIY (do it your-self) tourists there are different camps in areas near the city, opened especially in summer.
Popular hotels in Rome:
Where and what to eat in Rome
The traditional Roman cuisine has peasant origins, with strong flavors both for meats and vegetables. The pizza by slice is available in hundreds of local, small and large, where variety and condiments are pleasing to eye and palate. And of course, having the characteristic of international capital, there are also several multi-ethnic locals, with specialties from every corner of the planet.
Eating alla romana means moving from the classic Roman dishes based on pasta (amatriciana, carbonara, topped with cheese and pepper) to the gnocchi alla romana (especially on Thursdays), to the meat second courses, like tripe, brain, liver, vaccinara oxtail, demonstrating that the farming culture could not afford any waste of the slaughtered animals. And for those who prefer, there are always the spring lamb or the codfish, with the classic vegetables such as artichokes, zucchini flowers (when in season) and puntarelle. All accompanied by wines of Castles, Roman hills, Frascati, Velletri and Albani Hills.
If sleeping in Rome is always quite expensive, instead, eating can cost relatively little, even from 25-30 euros, mainly in bars, restaurants and in Trastevere and ex Ghetto taverns. The restaurants of the historic center, such as hotel restaurants, are more expensive, but provide a higher level of sophistication in the preparation and presentation of the dishes. It is always better to book in these locals, while in the more "popular" areas of the city there is always a seat: you have just to walk around and find one that seems more suited to your own tastes and needs. Closing days are Sundays and Mondays, and often, in the month of August, several local close for the holidays.
Where and how to have fun in Rome
The climate of Italy's capital allows to decide for outdoor evenings, sitting at coffee tables or in the heart of the night life in Trastevere. Other meeting centers are in Campo de' Fiori, in the streets around Piazza Navona or near the Pantheon. The entrance to the locals is often with a consumption fee, but the very best is, especially during the summer, to take a good beer or a glass of wine, sitting and talking on the street, in an eternal and continuous "rustle".
Cinemas and theatres in Rome are always open, with first visions and first-class artists. The National Academy of Santa Cecilia, Il Tempietto Cultural Association, the Gonfalon with a wall painting hall of 1580, the Globe Theatre, the Argentina Theatre, the Eliseo Theatre, the Opera Theatre and, of course, the Sistine Theatre are places renowned around the world for the quality of performances offered. Naturally, booking is a must: each of the mentioned places already have a website where to check the schedules and where to buy tickets online.
Shopping in Rome
In recent years, Rome is trying to match Milan as a city of fashion, but in this sense, the road is still quite long. However, the most prestigious national and international clothing brands have their showrooms and their boutiques in Rome; especially in Via Condotti and Piazza di Spagna. To find lower prices, it is necessary to move in areas outside of the historic center.
For collectors and antique, the "shopping" streets are Via dei Coronari, Via Giulia, Via Margutta and Via del Babuino. Anyway, the markets of Piazza Fontanella Borghese, Ponte Milvio, Via dei Magazzini Generali (Carnaby Street) offer also pieces worthies of the best shops.
Photo of the Pantheon by  yeowatzup