Spain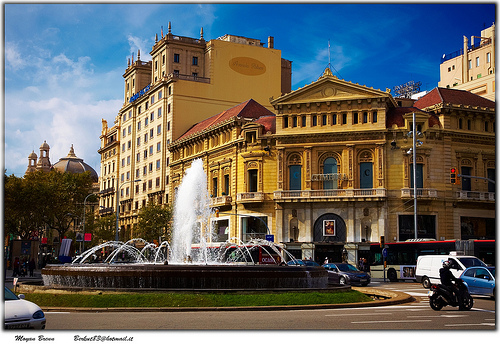 Published on June 24, 2011 | by Andrea Guerriero
0
Travel Tips for a perfect holiday in Barcelona
Barcelona: needs no introduction. This city has in many cases exceeded London in the youthful ideals and more often it happens that occasional visitors then decide to stop and live there permanently. For those not so lucky still wishing to enjoy a vacation in this city, but perfect, here are 3 simple tips to get it right!
Choosing the hotel in Barcelona
Considering that Barcelona hotel rates are all more or less standardized – one night stay for 2 people during high season costs around 100 Euros – you may choose your accommodation depending on your favored district, rather than price, according to your personal tastes. If you love fun and nightlife, choose a hotel along Las Ramblas, or in the Born district, boasting a very lively night life. Who is more oriented towards cultural visits can choose the Barrio Gotico or Eixample – where all the major masterpieces of the city are. Finally, those who want to combine culture and fun, with a little healthy relaxation, must necessarily stay on the waterfront, to conveniently enjoy their city tour but also relaxing afternoons with stunning iews over the sea and the gulf.
Not to be missed attractions in Barcelona
Barcelona attracts many tourists delighted by its elegant and refined neighborhoods. The historical centre is the Barrio Gotico, which runs around the magnificent Catedral de la Santa Creu in Plaça de la Seu. One of the best places to visit are also the famous Ramblas, full of stalls, street performers, shops and incomparable views. Those who arrive in this city can not miss its symbol, the Sagrada Familia – Gaudi's masterpiece, but also the monument of Christopher Columbus, the Picasso Museum, located in El Born, and the nearby Passeig del Born, which comes alive at night becoming the reference point for young people looking for fun.
Best time to visit Barcelona
Last but not least, it is important to establish the best time to visit Barcelona, although it depends a lot on your tastes. If it is true that we must choose those periods when the climate is favorable – so that all the projects won't be ruined by days of incessant rain – it is also true that if you love a quiet holiday… but you also want to visit Barcelona – by definition hectic and cheerful – the less crowded and more convenient periods are between November and March. Usually, however, it is best to visit the city from May to September. Party Animals, then, come on! You are just a bit late, but summer is still long! Enjoy?
Last but not least here are some do's and dont's about Barcelona you may be insterested in.
Photo by ♀Μøỳαл_Bгεлл♂ ** I'm Back Again