Europe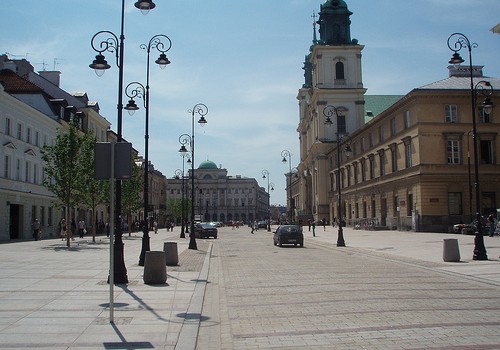 Published on October 13, 2011 | by Andrea Guerriero
0
Tourist attractions in Warsaw: The Royal Route
Warsaw has always been a vibrant city, bustling, full of life. Despite a very troubled history, its youthful spirit makes it a unique city. Warsaw has risen from the rubble of World War II by the impassioned commitment of the whole nation. A truly extraordinary goal, which allowed the faithful reconstruction of the Old Town, historical centre and heart of the capital, enough to get it within the list of UNESCO World Heritage Sites.
This Old Town is enclosed in what is commonly known as Warsaw's Royal Route – Trakt Królewski: one of the most representative arteries of the city, which includes a series of old royal residences. It starts at Castle Square (Plac Zamkowsky), goes through Łazienki Królewskie – Royal Baths, and then up to the Belweder Palace. It evolved over centuries, and it charms with its scattered churches, parks and residences. Let's take a walk along it.
Along the 'Royal Route' are located most of the historic buildings in the capital. The Old Town is full of old buildings and historic churches. At the heart of Old Town there is the Market Square (Rynek Starego Miasta), the symbol of Warsaw. As in the Old Town, also on Krakowskie Przedmieście are concentrated many of the historic churches of the capital. Along this street stand old buildings, many of which are used today as public offices.
Moreover, on your (Royal) way, you will come across Łazienki – a favorite place in Warsaw by locals and tourists alike. Among the numerous parks in the city, this is certainly the most beautiful and it is also home to the bronze monument to Chopin, under which from spring to late autumn, the composer's music resonates by the interpretation of renowned pianists. Beautiful historic buildings stand in the park: the Palace on the Water, which is reflected its white color in the lake, the Amphitheatre and the Myśliewicki palace.
Proceeding along large, modern avenues you arrive after a few kilometers to the baroque Wilanow Palace, the summer residence of King Jan III Sobieski, with wonderful examples of art inside and a beautiful garden outside.
The Royal Route ends at the Belweder Palace, on the edge of Łazienki, which has been the residence of the Polish head of state until 1994 and later converted into a museum dedicated to Marshal Josef Pilsudski.
Well, if this is not enough, just walk back to the beginning of the Route and let us know what (surely) has escaped to our eyes!
Photo by urbanlegend