City Breaks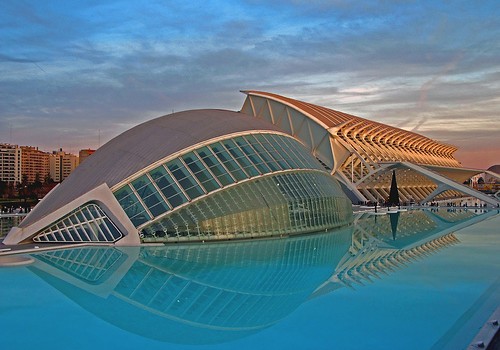 Published on January 16, 2014 | by Elena
0
Weekend in Valencia best things to do, see and eat
Valencia, roughly equidistant from the two main cities in Spain – Madrid and Barcelona – to which it is well connected, is one of the most dynamic and interesting cities in Europe, able to combine tradition, sense of identity and wish for renewal. A wonderful sea, relatively low cost way of living and of course its great, original Paella – Spanish dish par excellence – make Valencia an ideal destination for your weekend.
Up to a few years ago, Valencia was considered only a stopover destination for those traveling through the most famous places of this part of Spain. However, the America's Cup 2007 has put this city into highlight for its great cultural and architectural vivacity. For this reason, perhaps a weekend is not sufficient to get the best from Valencia, but since the main attractions are concentrated in specific areas, even a weekend in Valencia will be enough to enjoy this wonderful destination.
First of all, search for your accommodation in central Valencia. The old town has much to offer, thanks to the presence of outstanding architectures – such as the Basilica de la Virgen de la Desamparados, in the backdrop of the beautiful Plaza de la Virgen and hosting the Holy Grail – but especially for its liveliness, amongst crowded markets, cafes and clubs that animate one of the wildest movidas of Spain.
Starting from the Barrio del Carmen, the most busy district and always full of people pouring into the streets and clubs to drink and enjoy their leisure time. Cafe Infanta, Bolser, Johnny Maracas, are some of the best spots in the area, frequented by tourists and party-goers of all ages.
The Valencian nightlife is also expressed in other parts of the city, making it one of the liveliest cities of the region. Such as Calle Conde de Altea, the chic area of Valencia, or Juan Llorens – an area frequented mostly by the younger.
Don't miss to spend a day exploring one of the symbols of the rebirth and modernity of Valencia: the Ciutat de les Arts i les Ciències (City of Art & Sciences), a futuristic complex by architect Santiago Calatrava consisting of five main buildings: the Palace of Art, the Museum of Science, the Humbracule, the largest Aquarium in Europe and the Hemisferic, a human eye-shaped building.
The other major proof of the rebirth of Valencia is the improvement of the sea area. In addition to the well-known charm of the beaches – Pinedo, La Devesa or El Saler, just to mention the most famous, thanks to the advent of the America's Cup in Valencia, the sea area has undergone great changes to match up the World Cup, leading to the establishing of new entertainment venues and attractions. The port built for the America's Cup is the real driving force that has enabled Valencia to revalue its sea and create the so-called Maritime Route of the city.
Photo by SlapBcn