United Kingdom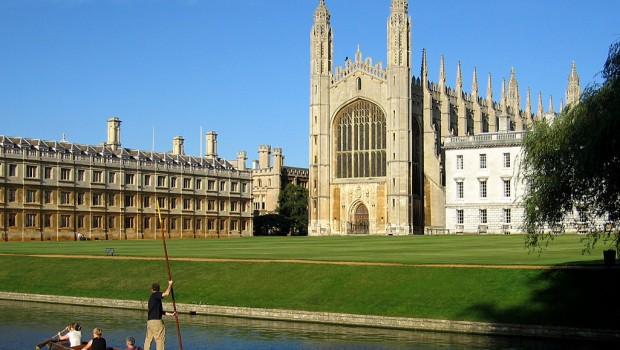 Published on August 11, 2014 | by Matt Pierce
0
Cambridge Like a Local – Experiences You'll Never Forget
Cambridge is a beautiful city located in the East of England, most notably known for its prestigious University which is consistently ranked in the top five in the world.
The first thing friends and family recommend doing when visiting Cambridge is to go punting down the River Cam or see the extraordinary architecture of the Kings College Chapel.
Of course experiencing those places is a given which everyone knows about, but what about those less talked about, but equally amazing places that you should visit?
As a local to the area of Cambridgeshire, I have the pleasure of being able to experience these places first-hand and it's a joy I want to share with you.
Whether you have children, you're with a partner or just want to experience Cambridge alone without any distractions, you are sure to find something worthwhile.
Vintage Aircraft Flight Lessons
What better way to see the whole of Cambridge than to see it from a bird's perspective. These unique flying experiences take you to the skies across the countryside and even offer you the chance to take the controls. During your experience, you will be donning all the special gear such as a leather flying jacket, helmet and goggles so you can properly look the part.
From the first years of aviation with the Tiger Moth to one of the most iconic aircrafts ever made, the Spitfire, you too can soar through the air without a care in the world. Not only will you have a flight lesson, you will also have free entry the Imperial War Museum to top off your day.
The ADC Theatre is regarded as Cambridge's most varied and vibrant theatres, consisting of top quality drama, music and comedy from the University's students. Boasting the likes of launching Sir Ian Mckellen's and Rachel Weisz's careers, it's fair to say quality is what you are going to get when you visit the ADC Theatre.
Fear not, outside of University term time, local drama groups and touring companies also come here to perform.
By looking through their 'what's on' page, you'll probably find it hard not to find something of interest to you due to the sheer amount of shows on offer.
First established in 1816, this iconic museum is sure to wow you with its brilliance and historic treasures. Chock full of ancient antiquities from Ancient Egypt, Sudan, Greece and Rome just to name a few, it's a learning experience you'll never forget.
"Really interesting for all ages involved, something for everyone. Great value and you can take your time, no pressure" says Tracey B who left a 5 star review on TripAdvisor.
With so much on offer at the Fitzwilliam Museum, it's hard to believe that admission is free for all.
The SI5 Spy Missions is a recommendation a little out of the ordinary from what is normally on offer in Cambridge, but is perfect for kids. Groups take on pre-written spy missions with difficulty increasing depending on the age of the participants.
You will be tasked with solving complex puzzles in order to 'beat the bad guys'. Adults can even take part as the difficulty can be ramped up dramatically. SI5 Spy Missions is well worth a go if you are looking for something completely different.
By far one of the priciest experiences you can have in Cambridge, but one of the most rewarding. These multi-million pound state of the art simulators are normally used to train commercial airline pilots, but you too could be sitting inside the cockpit and learning from the best.
Test your skills, mental strength and physical endurance as you take to the skies (virtually of course).
"Awesome experience. Simon, our instructor, was great – right level of technical info and learning versus fun. Can't imagine how you could improve the experience at all" says David G, a customer.
Cambridge Museum of Computers and Gaming
For many of us, we have seen the information age (or digital age) play out before our eyes with the likes of the internet being invented and Microsoft becoming one of the most powerful businesses in the world. But how much do you actually know about this age that we live in? You will learn just how far we have come in such a short space of time.
The Cambridge Museum of Computers and Gaming is the only museum dedicated to the social and historical impact of computers in the whole of Europe. Take yourself and your kids down to the museum to learn about the fascinating story of computers that we all take for granted.
Buying the perfect wine to compliment a meal is similar to finding a needle in a hay stack; near impossible. But equipped with the right information and know-how, wowing your friends with your choice of wine will be a breeze once you've experienced Cambridgeshire's Wine School.
With no previous experience required, all you need is a thirst for knowledge and you too could be attending a fun-filled wine tasting session on a sunny Saturday afternoon.
Take-aways
Cambridge is full of experiences that you just won't find anywhere else. Like I said before, we all know of those classic Cambridge experiences, but it's these ones just mentioned that will offer something completely unique to share with friends and family.
Take yourself out of your comfort zone and you won't regret it.
Photo courtesy of Andrew Dunn – http://www.andrewdunnphoto.com/